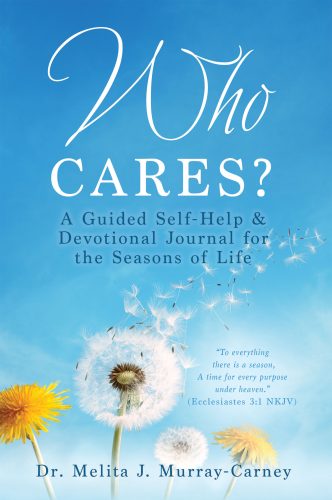 About Who Cares? A Guided Self-Help & Devotional Journal for the Seasons of Life by Dr. Melita J. Murray-Carney:
ONLY $2.99!
In Who Cares? You will find guided discussion, daily affirmations, and insight into a wide range of topics from love and forgiveness to accountability and beyond.
This book primarily functions as a journal through which the reader can examine their own spiritual condition in the following "seasons" or aspects of personal development:
Season 1: New Beginnings
Season 2: Love
Season 3: Anticipation
Season 4: Personal Growth
Season 5: Success
Season 6: Mental & Physical Health
Season 7: Rest & Relaxation
Season 8: Change
Season 9: Gratitude & Joy
Whether you struggle with maintaining discipline, taking risks, recognizing your strengths, or anything else, this book will equip you to navigate successfully through life's most challenging seasons—and to remind you that through it all, God is by your side.
5 Star Readers' Favorite Review ~ If you want a spectacular journal that's almost like a mentor available anytime, anywhere, and whenever you need one. Then grab a copy of this remarkably eye-opening book for a soul-searching journey with God that will change your life forever.
Buy the book: