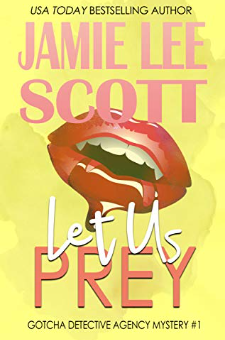 About Let Us Prey: Gotcha Detective Agency Mystery Book 1 by Jamie Lee Scott:
In the first book of Jamie Lee Scott's USA Today bestselling series…
Private detective Mimi Capurro takes on a bodyguard client only to end up investigating a murder.
If you like your mysteries with a bit of humor and snark, this murder mystery series is perfect reading.*
Add a sub headline that will lead the reader to the next paragraph
The Players
Mimi Capurro: Owner, Gotcha Detective Agency
Charles Parks: Computer forensics, Gotcha Detective Agency (also Mimi's best friend)
Nick Christianson: Homicide detective: Salinas Police Department (Mimi's old college fling)
The Case
When Mimi is hired to protect a New York Times bestselling author on her book tour, she never expects she'll be embroiled in a murder investigation. But that's exactly where she finds herself when the author's assistant is murdered.
Making matters worse, Mimi comes face to face with an old college fling, who happens to be the homicide detective on the case.
Mimi, along with her snarky co-worker, Charles, worked to find the killer alongside the homicide detective, whether he likes it or not.
Follow the quirky and fun characters of Gotcha Detective Agency on this wild ride.
Buy the book: