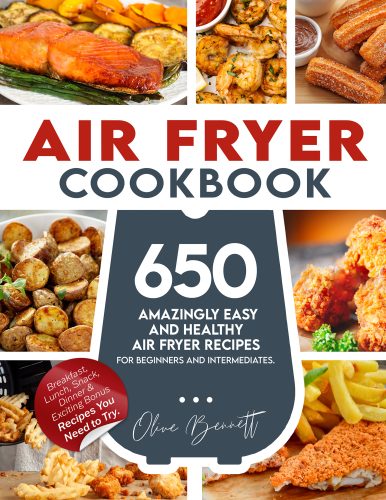 About Air Fryer Cookbook: 650 Amazingly Easy and Healthy Air Fryer Recipes for Beginners and Intermediates. Breakfast, Lunch, Snack, Dinner & Exciting Bonus Recipes You Need to Try.:
Are you a new user of Air Fryer or an advanced user looking for new ideas? Are you looking for affordable, easy, but exciting recipes? Are you looking for that one cookbook that you will ever need?
If you said yes to any of these questions, this will be your go-to cookbook.
Discover 600+ main dishes and bonus recipes for easy and healthy frying that will change your life.
Filled with over 600 recipes, ranging from juicy Chicken Teriyaki Burgers to crispy Apple Fries and Peanut Butter Doughnuts, the Air Fryer Cookbook goes beyond fried main meals and provides you with ideas for breakfast, lunch, snack, and dinner, as well as 50 spectacular bonus recipes.
Why choose this cookbook among all others?
• Wide range of sweet and salty Breakfast Ideas
• Lunch and Dinner Recipes
• Salty and Sweet Snacks
• Cakes, Muffins, and many other baking recipes
• 50 bonus recipes
• Available ingredients
• Easy to follow instructions
• Cooking time and servings for each recipe
• Shopping list
• The one and only cookbook you´ll need for an Air Fryer
Get the most of your Air Fryer with these delicious recipes. Air Fryer Cookbook will save your time and provide great alternatives for healthy frying and baking, contributing to your health.
Grab this book now and make simple OR exclusive recipes for your friends and family, save your money and time and enjoy your life!
Get it now and try the best air fryer recipes.
Buy the book: