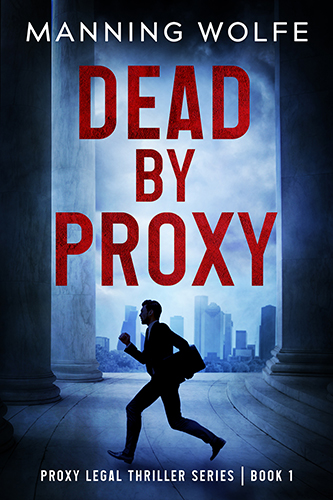 About Dead By Proxy by Manning Wolfe:
Introductory price $0.99 – limited time.
In this lawyer on the run action suspense, attorney Quinton Bell loses the trial of his career, and possibly his life.
Dead By Proxy takes you on a heart-pounding journey through the life of a criminal defense attorney, whose world is wiped out. When Quinton loses a career-defining case, he finds himself being hunted by the very client he tried to save.
As Quinton navigates the treacherous path of survival, he is running from a powerful and relentless adversary who will stop at nothing to see him silenced. Finally landing in Houston, he hides in plain sight while re-inventing his new life as a trial lawyer.
When he's forced to take on a high-profile murder case, he exposes himself and those he loves to danger. With each passing moment, the noose tightens, and he must draw on every ounce of wit to outsmart those who still want him dead.
Will Quinton Bell find a way out, or will he forever be a target in a deadly game of cat and mouse?
Dead By Proxy is the first book in the edgy Proxy Legal Thriller Series. If you like memorable characters, smart gritty action, and jaw-dropping twists, then you'll love Manning Wolfe's fast-paced page-turner.
"A riveting read that expertly teams courtroom drama and legal maneuvering with imminent danger, spine-tingling suspense, a touch of romance, and non-stop action. Talk about an adrenaline rush!" – Reedsy
"Manning Wolfe just put herself on my list of must-read authors!" – John Ellsworth
Buy the book: