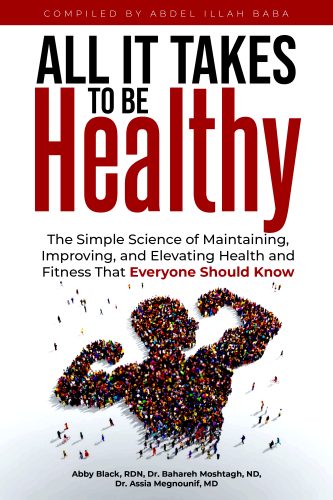 About All It Takes To Be Healthy: The Simple Science Of Maintaining, Improving, and Elevating Health and Fitness That Everyone Should Know:
"All It Takes To Be Healthy" is the final product of over 3 years of in-depth field research and cooperative work among a highly respected team of experts: Abby Black, a Registered Dietitian Nutritionist with 18 years of experience in the field; Dr Bahareh Moushtag, a Naturopathic Doctor, and Dr Assia Megnounif, a Clinical Professor, and Medical Doctor since 2004.
The product is a comprehensive health&wellness book that compiles between its two ends the essence of Nutrition, Medicine, and Naturopathy Sciences as well as Human Psychology that Everyone Should Know in order to be able to make the right knowledge-based decisions that support their best possible health and fitness in different situations, in addition to 30+ ready-to-apply Takeaways, making the book as practical as it is informational in the best inclusive way. This book is, therefore, your guide to a healthy lifestyle that provides a middle ground between a generalized plan and a trainer's tailored healthy-living regimen.
Soon after publication, 120+ readers grabbed their copies and expressed their satisfaction with the content, and now should be the time for you to grab yours and take advantage of the 63% discount deal for now.
Buy the book: