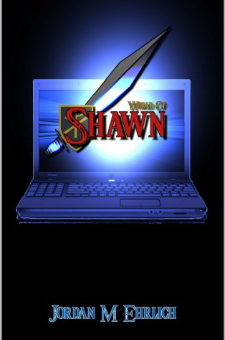 About World of Shawn by Jordan M Ehrlich:
-= Stuck at home for the evening? Hitting the road? Check out the "World of Shawn" e-book that's 99¢ for a limited time! (always FREE w/ KU)! =-
This is the story of a lonely kid who develops a computer game, using what little of quantum physics that he has read, that renders game levels from maps of any format; the result is just a little too realistic. When he tries to combine this "World of Shawn" with a favorite game of his childhood, "World of One," he soon finds Worlds colliding, to the detriment of his friends. Shawn must step up and rectify things, rescue the princess and save the World.
The interaction and constant dialogue between the characters in this story, as well as the humor and action intertwined, have drawn comparison to that in such works as "The Lord of the Rings," "Harry Potter," and "Narnia," so if a reader has an interest in any of those, as well as an interest in computer programming or video games, either in the past or the present, it would be a safe bet that they would enjoy getting to know Shawn and his World!
—
"A must-read for video game lovers! I got this book free, in exchange for an honest review, and I couldn't be happier!…I can't wait for my 7th grade son to read this! Buying him a copy today!"
— 5 stars "and I couldn't be happier! Shawn is a delightfully nerdy character dabbling in …" By erobbins
"My wife bought this book for me and thought as a gamer that I might like it! Man was she right! Very exciting, non stop thrill ride. Very well thought out and constructed. Plot lines all make sense, and all are reoccurring thought the entire book. The book flowed really nicely and ends with some really good sequences tying the whole experience to a thrilling conclusion!!! Overall great read!!! Can't wait for this to become a summer blockbuster movie!!"
— 5 stars "GREAT READ FOR ANYONE WHO READS SIFI, OR HAS EVER PLAYED A VIDEO GAME :O)" By photonut
"You'll be able to thoroughly enjoy this imaginative tale…I think it'll be liked, and possibly loved."
— 5 stars "you'll be able to thoroughly enjoy this imaginative tale" By kholoblicin "R.w.Foster"
"Awesome…I found this book very well written….I think it was done a little bit too well,but I don't think blowing minds is illegal."
— 4 stars "Awesome" By Michael Johnson
Buy the book:

Author Bio:
I am a software developer in Wichita, KS, and have my Master's in Computer Science from the University of Kansas. I am divergent, as I have both a mathematical, computer-driven side, as well as a verbal, literature-driven side. I enjoy humor immensely, as well as history and, most of all, my faith in Jesus Christ is extremely important to me. "World of Shawn", my first Young Adult novel, is my attempt to combine all of these into one story.I am a big fan of "Harry Potter", "LOTR", "Narnia", and "The Hunger Games", as well as classic TV such as "The Three Stooges", Don Knotts, and "Laurel & Hardy"; their influences are apparent in my work.