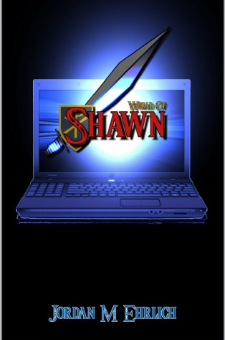 About World of Shawn:
This is the story of a lonely kid who develops a computer game, using what little of quantum physics that he has read, that renders game levels from maps of any format; the result is just a little too realistic. When he tries to combine this "World of Shawn" with a favorite game of his childhood, "World of One," he soon finds Worlds colliding, to the detriment of his friends. Shawn must step up and rectify things, rescue the princess and save the World. The interaction and constant dialogue between the characters in this story, as well as the humor and action intertwined, have drawn comparison to that in such works as "The Lord of the Rings," "Harry Potter," and "Narnia," so if a reader has an interest in any of those, as well as an interest in video games, either in the past or the present, it would be a safe bet that they would enjoy getting to know Shawn and his World! — "Your Hero" (Book Excerpt) I watch you from afar, You don't know who I am, But I care for you, And would die to defend you. You are my Princess, And I am here to save you. I am Always, Your Hero — "The One" (Bonus Material) When no one else is around, you are the one who listens. When all is darkness, you are the one who turns on the lights. When the evil in this world seems to have overcome the good and all that was once true is utterly gone, You are the one who keeps me going just one more day. You are the one that holds back the tide. You are the One. — These are songs that helped me in the development of "World of Shawn" and songs that help recall scenes and elements from Shawn's World, in chronological order. These would also be awesome for a WoS movie soundtrack, if a movie was ever produced! More will be added as I recall them: 1. Live For The Night – Krewella 2. Surrounded – BT+Aqualung 3. Atmosphere – Kaskade 4. Another Night Another Dream – La Bouche 5. Wake Me Up – Avicii+Aloe Blacc 6. Creep – Radiohead 7. Tidal Wave – Sub Focus+Alpines 8. Wild One Two – David Guetta+Nicky Romero+Sia 9. Starlight (Could You Be Mine) – Don Diablo+Matt Nash 10. Take Me Home – Cash Cash 11. Take Me – Tiesto+Kyler England 12. Never Say Goodbye – Hardwell & Dyro feat. Bright Lights 13. If I Lose Myself – Alesso+OneRepublic 14. Down – Mat Kearney 15. Worlds Apart – Jars of Clay 16. Hurt – Johnny Cash 17. Don't You Worry Child – Swedish House Mafia 18. Save The World-Zedd Remix – Swedish House Mafia+John Martin 19. Pompeii Remix – Bastille+Kat Krazy Do you have ideas of others that fit well?
Buy the book:
Author Bio:
I am a software developer in Wichita, KS, and have my Master's in Computer Science from the University of Kansas. I am divergent, as I have both a mathematical, computer-driven side, as well as a verbal, literature-driven side. I enjoy humor immensely, as well as history and, most of all, my faith in Jesus Christ is extremely important to me. "World of Shawn", my first Young Adult novel, is my attempt to combine all of these into one story.
I am a big fan of "Harry Potter", "LOTR", "Narnia", and "The Hunger Games", as well as classic TV such as "The Three Stooges", Don Knotts, and "Laurel & Hardy"; their influences are apparent in my work.