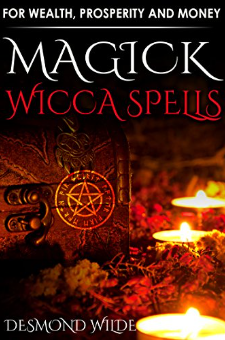 About Wicca Magick Spells for Wealth, Prosperity and Money by Desmond Wilde:
Learn the Ancient secrets of Wicca Magick Spells to Attract More Wealth, Prosperity and Money in Your life. Download FREE with Kindle Unlimited!Using this guide, you will be able to teach yourself many of the ancient arts discovered by our mystical ancestors. While they once might have used them to form potions and love spells, we can now turn this knowledge toward being able to attract wealth and fortune towards your person. Though it might be a far cry from the alchemy, we will not be turning lead into gold. Instead, you will be able to prepare yourself spiritually for one of the most difficult and hard to enact branches of magick. By learning the arts described in this book, you can place yourself into the perfect position for wealth to move toward you. Magick often moves in mysterious ways, and those who are looking for clearly defined answers are often in entirely the wrong place. So read on, and discover the various spells and mysticisms passed down by our elders. With the help of this guide, you should be able to discover a fantastic means of preparing yourself for a healthier financial future. When you are searching for wealth, happiness, and a means to make your fortune, discover why magick in its various forms could be exactly what you need. Inside find 11 powerful spells to attract wealth, remove money hex, finding money, increasing personal success and more.Scroll back up and grab your copy today
Buy the book:
Author Bio:
Desmond Wilde is fascinated by all things magick related. The supernatural, the occult and witchcraft have charmed him for years. He and his wife have been involved in Wicca for years and live in Scotland where he devotes his time between writing and practicing Wicca. He shares his vast knowledge with his readers.