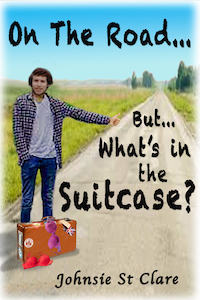 About What's in the Suitcase?:
Jennifer has made me a suggestion; pack two suitcases with ladies' underwear & take them to Eastern Europe. The time is during the decadent West of the sixties & the strange world behind the Iron Curtain. Plus the lady whose husband is serving ten years in a political prison; & a trip to Istanbul carrying some dangerous material in the trunk of a beat-up car involving a stakeout with Interpol.
Buy the book:
Author Bio:
I've done many things to stay alive, from running a property company in Central London to sweeping roads and driving a mini-cab. I've been a goat-herd in the mountains of Morocco, a lawyer, a university lecturer, a property developer, writer, musician, gambler and bum. I even used to perform in a pop band and run a record company and recording studio. I've even owned part of a commercial French vineyard. I've written and recorded several music albums, and one such album will be released with Book 6 in the Join the Girls series. I've travelled in over eighty countries, and now live at the end of a dirt track in an old farmhouse, just back from the sea in Southern Europe.