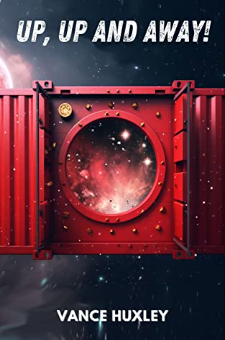 About Up, Up and Away!:
When an unconventional scientific discovery happens in a little garden shed in the U.K., the results are spectacular.
What if you could turn off gravity? Well, maybe divert it a bit, or absorb some?
That's exactly what geek Stephen Corser figures out.
And now there's just a few details that stand between his ragtag group of friends and space, the final frontier.
They have a big dream, the freedom of space for anyone who could make something airtight and strap on a Widget. No government control, no corporations selling space an inch at a time.
There's only a few problems standing in their way like locating a private island, dodging the government, SEAL teams and Venezuelan gangsters.
Hold on to your shipping container, because Pigs are going to fly!
Buy the book:
Author Bio:
Vance Huxley lives out in the countryside in Lincolnshire, England. He has spent a busy life working in many different fields. Eventually, Vance tried writing though without any real structure.
Then he actually sent one off to be read which delivered at least one bucket of very cold water (but a polite and informative bucket). As an editor and beta readers explained the difference between words and books, he tried again.
Now he tries to type as often as possible in spite of the assistance of his cats, since he is no longer mobile. An avid reader of sci-fi, fantasy, and adventure novels, so his writing tends toward those genres.
He also spends much too long wandering off down those fascinating blind alleys that the internet produces when researching, but oh, the little treasures at the end of some!