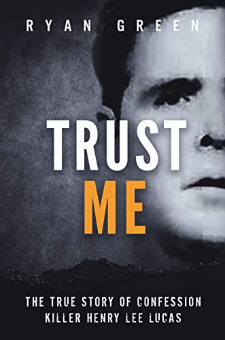 About Trust Me: The True Story of Confession Killer Henry Lee Lucas (Ryan Green's True Crime):
On June 5, 1983, Henry Lee Lucas was arrested for the unauthorised possession of a handgun. The police believed that he was linked to the disappearance of two females, so they used the opportunity to apply pressure and encourage a confession. After four days in custody, Lucas confessed to killing the two women.
What transpired in the following months was both peculiar and fascinating. Lucas confessed to murdering, raping and mutilating hundreds more women with his friend and lover, Ottis Toole, whilst under the influence of a satanic cult.
But there were hidden depths to the revelations. Upon further inspection, investigators found that Lucas confessed to crimes that directly contradicted others, casting doubt over what was fact and fiction.
Lucas had the answers. Could they uncover the truth?
Trust Me is a dramatic and gripping account of one of the most bizarre and gruesome true crime stories in American history. Ryan Green's riveting narrative draws the reader into the real-live horror experienced by the victims and has all the elements of a classic thriller.
CAUTION: THIS BOOK CONTAINS DESCRIPTIVE ACCOUNTS OF ABUSE AND VIOLENCE. IF YOU ARE ESPECIALLY SENSITIVE TO THIS MATERIAL, IT MIGHT BE ADVISABLE NOT TO READ ANY FURTHER
Buy the book:
Author Bio:
Ryan Green is a true crime author in his late thirties. He lives in Herefordshire, England with his wife, three children, and two dogs. Outside of writing and spending time with his family, Ryan enjoys walking, reading and windsurfing.
Ryan is fascinated with History, Psychology and True Crime. In 2015, he finally started researching and writing his own work and at the end of the year, he released his first book on Britain's most notorious serial killer, Harold Shipman.
He has since written several books on lesser-known subjects, and taken the unique approach of writing from the killer's perspective. He narrates some of the most chilling scenes you'll encounter in the True Crime genre.
"Ryan Green is an incredible storyteller…he doesn't just tell the story, he allows you to be part of it." ~Blackbird
Join Ryan's Reader Group to receive a FREE book, notifications of new releases and limited-time offers at www.ryangreenbooks.com/free-book