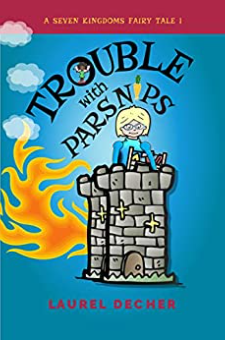 About Trouble With Parsnips: About the Magic of Speaking Up (A Seven Kingdoms Fairy Tale Book 1):
It's like The King's Speech, but for kids.
When it's save-the-kingdom time, a nameless princess has to use her whole toolbox. . .
Can she finally use the one tool that's never worked. . .her quiet voice?
Organizing a party is hard! When you're a behind-the-scenes inventor princess, it's even worse.
But when your royal parents fall ill with croquet fever? All they want to do is play croquet!
The pressure's on!
Then your royal aunt burns down the castle. . .
And your fairy godmother's booby-trapped gift means. . .
No one hears you at all!
What's a princess to do?
__________________
Whether it's speaking up at a feast, or reading a map in a strange kingdom, SEVEN KINGDOMS FAIRY TALES are all about finding more magic in your life.
One lucky child gets the perfect leadership gift.
If only the fairies would remember the training wheels!
Yiiiiiiiikes!
__________________
For ages 9 to 12. Read in any order.
Perfect for fans of funny, fast-paced fairy tales like Jean Ferris' Once Upon a Marigold or E.G. Foley's The Gryphon Chronicles.
Also for friends of entertaining adventure stories. . .with a side of handy life skills. (Jacqueline Davies' The Lemonade Wars or Shannon Hale's Princess Academy.)
Buy the book:
Author Bio:
The joys we discover early can turn into life-long fascinations. That's why my books challenge 9-to-12-year-old readers to open all the doors in their lives!
Until we reach retirement age, most of us will never again have a window of time, energy, and brain power like this.
Seven Kingdoms Fairy Tales are about enjoying reading superpowers, imagining delightfully silly places, and discovering life's possibilities.
Read the books in any order. 🙂
Laurel Decher lives on the outskirts of a mid-sized city in Germany, between a medieval chapel on the St. James' Way and a boundary marker tree carved with a scary face. It's a little surprising, since she expected to live in Vermont for the rest of her life. You just never know when adventure will call!
TROUBLE WITH PARSNIPS is her first book for young readers (ages 9-12). She writes stories about all things whimsical, vegetable, or musical.
In LOST WITH LEEKS, Prince Nero has to find his true North and rescue St. Nicholas before it's too late.
In UNDER PRESSURE WITH A SQUASH: The Multiplication Problem, Princess Saffy and Prince Magellan face test after test to save their beloved dragon.