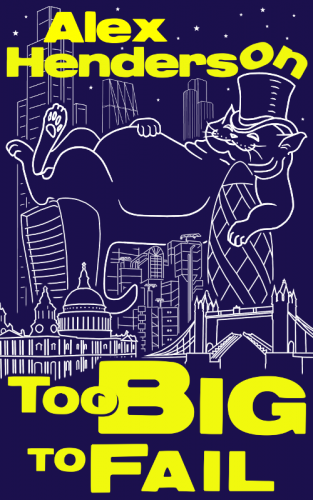 About Too Big To Fail by Alex Henderson:
From the author of Girth and Not Going Gently comes the hilarious tale of someone finding life a little tough at the top.
Gentle giant Jacob Waxman probably isn't the right person to be overseeing the ethics of a voracious international bank.
It was never his dream job and he's giving it his best shot, but when he gets trapped on the top floor of the building, Jacob's going to find out that truth is the first casualty.
Because he certainly can't tell his boss Brittany. She thinks she's finally seen a spark of ethical passion in him and had only just asked him out on the date he now can't attend.
Nor does he feel he can tell his colleague Helen and that's more painful. She and Jacob are the best of friends, but there's always a lot unsaid between them and she's prone to panic, so this could be another truth she can't handle.
Somehow though, he does feel he can tell his online delivery driver. Which leads to some very unorthodox outsourcing solutions.
And yet this new approach to the truth he's forced to live with may just fix Jacob's failing career and his non-existent love life. Hell, it might even help fix some of the other problems in his life that need to be addressed.
Just so long as he can keep everything under control.
Buy the book:
Author Bio:
This is Alex Henderson's latest adult comedy, the first being the massively successful Girth, which was followed by the poignant but equally hilarious Not Going Gently.