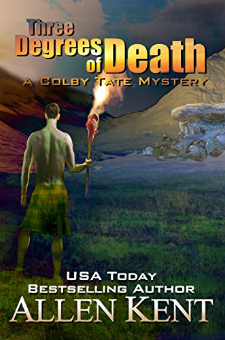 About Three Degrees of Death: A Colby Tate Mystery (The Colby Tate Mysteries Book 3):
Sheriff Colby Tate's Granny Durbin always said bad news comes in threes. When the wire mesh house of the town's eccentric squirrel whisperer, Fits Loony, is destroyed by zealots, Tate holds his breath, awaiting calamities Two and Three. But nothing can prepare him for how dramatically the other two disasters will change his life and the life of those in quiet Crayton, Missouri.
The attack on Fits' cage home, a wrongful death lawsuit, and the mysterious disappearance of two local teens during a school trip to Scotland draw Tate into the murky world of the dark web, secret erotic rituals, and deadly cults. And they bring answers to a mysterious prophecy by the Webber Sisters, the Old Women of the Mountain, who read the tea leaves in their backwoods retreat in the Ozarks hills.
Fans of the "Outlander" series will love "Three Degrees of Death," a suspenseful, page-turner that culminates in the rugged moors of the Scottish Highlands.
Buy the book:
Author Bio:
Allen Kent is a USA Today and Amazon bestselling author with a number of other writing awards. Four years of his life were spent living in Iran and England, and he has traveled and worked extensively in Europe, the Middle East, and Southeast Asia – experiences that are reflected in his writing. His career includes five years as a pilot in the U.S. Air Force. He and his wife Holly are avid travelers, gardeners, and conservationists, and live in an eco-friendly home in rural southwest Missouri.
Kent is the author of the popular Unit 1 thriller series, the Whitlock Trilogy of historical fiction, The Colby Tate Mysteries, and other mysteries and thrillers.