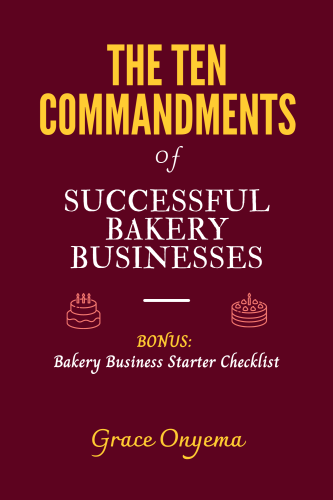 About THE TEN COMMANDMENTS Of Successful Bakery Businesses:
Get it "Right" from the Start!
This book opens you up to the secrets of the most successful bakery businesses, and you need this knowledge if you want your bakery business to stand the test of time.
This book is more than a guide. It's a blueprint that contains essential information you need to be aware of to start, run, and sustain a successful bakery business (online and offline).
The Ten Commandments are:
1. PASSION
2. CREATIVITY AND INNOVATION
3. PHYSICAL FITNESS
4. GOOD NUMERICAL SKILLS
5. DEFINE YOUR BUSINESS
6. BECOME AN EXPERT
7. INVEST IN EQUIPMENT / TOOLS UPGRADE
8. MODERNIZE BUSINESS OPERATIONS
9. GO GLOBAL WITH E-COMMERCE
10. MARKET SHAMELESSLY
Bonus: BAKERY BUSINESS STARTER CHECKLIST
The "Bakery Business Starter Checklist" is a simple checklist for any individual interested in owning a successful bakery business. It's all about helping you structure your business right from the start.
This book is dedicated to every individual, baker, or bakery business owner out there in the baking world, whose dream is to start, grow and run a successful bakery business.
You must first Believe it is Achievable, understand and respect the Growth Process, then get your bakery business Thriving!
Dear Baker, Get This Book Today!
Buy the book:
Author Bio:
Grace Onyema is a Multiple Amazon Best-selling Author, Digital Publishing Consultant, Bakery Business Strategist, and an Entrepreneur.
She is the Founder of Digital Bakers Hub Africa (DBHA), an online community dedicated to empowering thousands of individuals, bakers, and bakery business owners. Grace uses her Business Strategies, System and Structure (BSSS) Blueprint in helping bakers, business owners, and entrepreneurs become highly paid in their fields of expertise, especially online.
Grace also helps business and entrepreneurial people learn the business of Amazon KDP using strategic Book Writing and Digital Publishing Mastery Processes.
She is passionate about helping people earn in multiple streams, monetize their skills, and leverage digital skills and published assets for building influence and attaining financial freedom. She has helped dozens of bakers structure their businesses strategically online, and quite several authors and entrepreneurs become published.
In 2020, she was nominated for the SME100 Africa 25Under25 Entrepreneurial Awards and also OPEN Awards for Business Owner of The Year.