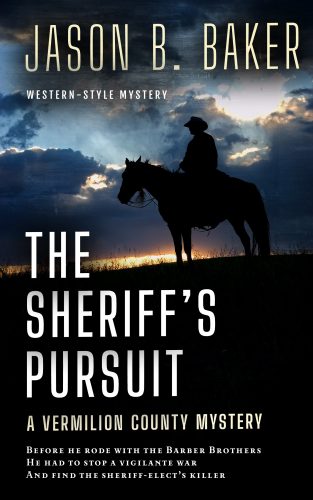 About The Sheriff's Pursuit: A Vermilion County Mystery:
99 cents New Release, Series-Starting Special Through the End of the Month!
After three terms as sheriff in a rapidly changing world, Sheriff Talbot Jones is set to retire. But first: he must solve the sheriff-elect's murder.
In the sprawling, unforgiving prairies of pre-Civil War Illinois, justice often comes with a shadow of retribution. Enter Sheriff Talbot Jones, who knows that the difference between right and wrong can be as elusive as the relentless winds sweeping the vast landscape. He's about to face a chilling murder in a town on the brink of prosperity, and the dark roots of vengeance run deep.
The Sheriff's Pursuit: A Vermilion County Mystery is a gritty Western-style historical mystery that captures the spirit of classic Westerns and the intrigue of historical fiction. With vibrant characters, an unwavering quest for the truth, and an unpredictable landscape, this novel immerses you in a world where the past demands retribution and the shadows of yesterday reach out with bone-chilling force.
Journey back to a time where courage, determination, and the relentless pursuit of justice define life on the frontier. Sheriff Jones knows that the path to justice in this land is far from straightforward—it's a relentless pursuit, no matter the cost. Be prepared for a compelling odyssey that questions the nature of justice, the power of redemption, and the darkness that hides within the human soul.
Acclaimed Civil War non-fiction author Jason B. Baker delves into fiction again, offering an intense prequel to his successful debut, The Ace's Bounty. Best-selling classic Western author Ron Schwab has hailed Baker as a rising star with a bright future in the genre. With The Sheriff's Pursuit, Baker has crafted a story that will keep you on the edge of your seat until the last page. Dive into this captivating historical mystery and discover the captivating world of Vermilion County.
Buy the book:
Author Bio:
Jason B. Baker is the author of the non-fiction Civil War book "Chicago To Appomattox." Now, he uses his research of the era to write historical mysteries and classic adventure novels. His stories focus on finding justice while putting his characters in historically accurate scenes of the period following the Civil War. An Illinois native and career military officer, Jason and his wife and young sons live in Virginia.
When he isn't reading or writing, you can find him following Chicago and University of Illinois sports, hitting lousy golf shots, seeking a great meal, or touring historical sites and museums with his family. An Illinois native, Jason, his wife, and two young sons live in northern Virginia.