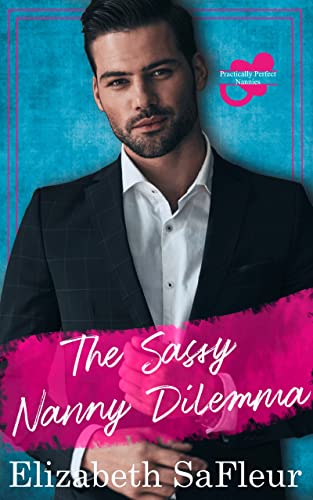 About The Sassy Nanny Dilemma by Elizabeth Safleur:
Life was good in Moorsville where Adelaide Bloom knew exactly her place. Nanny. Sister. Black sheep of the sleepy little town.Her life was dead opposite of Ashton Scott, celebrity attorney to A-lister stars and hometown legend. But when he shows up back at his old family mansion with a daughter no one knew he had, and needs a nanny? She finally has a chance to prove she's more than just "the maid's daughter with a past."For one, he may be great at dating supermodels but his idea of parentingcould fit into a thimble. Like his strict rules of not letting the six-year-old get dirty or eat sugar? Ha! They were mere suggestions, right? Ash never wanted to see this hole-in the-wall town ever again. But he'll do anything to keep his daughter safe from the paparazzi and gold diggers. He'lleven livein his old family homefor a year to get her settled at the local girls academy. Then he'dhigh-tail it back to Manhattan where he belonged. That is, if that nanny could ever follow basic instructions. If only she wasn't so oddlyappealing for reasons he couldn't fathom.He didn't have time for women, for allthe entanglements they brought. And Adelaide was a walking complication.But no problem. Resistance to temptation was his specialty. At least it was.A meet cute, opposites attract, grumpy boss-Miss Sunshine, steamy romantic comedy
Buy the book:

Author Bio:
Writing romance that dares to "go there" is the most fun I've ever had. (Well, except for the research.)
I write, tweet and post under my pseudonym, Elizabeth SaFleur, since my clients might be (WOULD BE) a little shocked at how their counselor spends her free time, the delicate flowers. Then again, perhaps they fear they provide inspiration. I'll never tell.
Today, I share a beautiful view of the Blue Ridge Mountains with my husband and furry child, a Westie – who is the real Dom in the family. We do what he says.
In my free time, you can find me dancing as part of a burlesque and aerial arts dance troupe and visiting wineries and hiking trails with friends. If our house ever caught fire, I'd grab my dog, laptop and five foot-long, regulation, Sally Rand-inspired, ostrich feather fans — in that order. Hubby knows the way out. Word to the wise: It's never too late to start playing with feather boas and fans.