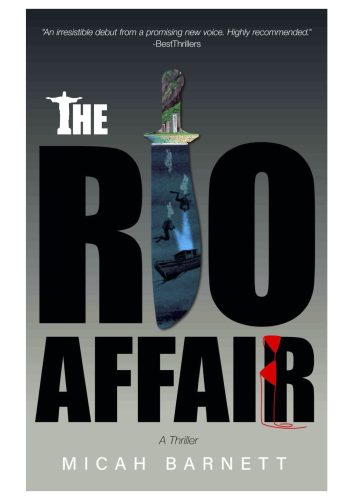 About The Rio Affair: A Thriller:
Special Agent Miles Ronan has a secret: his father is on the FBI's Most Wanted List. When Miles is called to Brazil he hasn't seen his father in years. But there he is, the body on the Rio de Janeiro morgue slab was once clearly Frank Ronan – the infamous LAPD detective who thirty years ago stole $50M in cartel cash and abandoned his son and country. Miles is relieved to finally close this chapter of his life. But then, the coroner reveals that his father has a teenage daughter — and she's disappeared.
Now in order to save the only family he has left, Miles must unravel his father's fugitive past and solve the dark mystery of his stolen millions. A mission that forces him to defy both the U.S. Consulate and the local police… and become a fugitive himself.
From the seductive chaos of Rio de Janeiro to the palm tree wilds of Bahia to the skyscrapers of Sao Paulo to the stunning islands of Angra – THE RIO AFFAIR is an edge of your seat thrill ride straight into the dark, exotic heart of Brazil.
Buy the book:
Author Bio:
Micah Barnett was born and raised in the mountains of western Montana. He now lives with his family in Los Angeles where he works in the film business, chauffeurs two young boys to sports practice, pursues an obsession with surfing and wakes up at the crack of dawn to write novels.