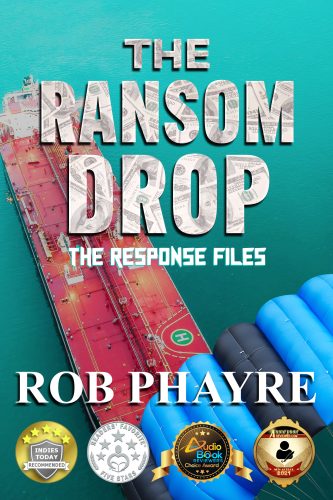 About The Ransom Drop:
The Ransom Drop, a true to real life, military suspense thriller, that reveals the secrets behind the resolution of Somali piracy. It's a factually correct, intense page turner, and it's written by the guy who delivered some of the largest ransoms ever paid at sea.
Winner of the AudioBookReviewer.Com 'Reviewers Choice' award.
Publishers Weekly 'Starred Review'.
Rob Phayre winner of the 'Best New Author 2021' from ABR.
Indies Today 5 star recommended!
Readers Favourite, Prairies Book Review and BookView – All gave 5 star reviews
An oil tanker is hijacked by a novice band of Somali pirates.
It's an impossible problem to solve in one of the most remote and dangerous places on earth.
A team of experts are called in with one job to do; save the lives of the crew.
Can this 'A-team' do so? Can they prevent a massive environmental disaster, rescue the ship and its hundred million dollar cargo? There are reputations to be made, or lost…
Buy the book:
Author Bio:
Rob Phayre delivered some of the largest ransoms ever paid at sea. That makes him the best person to tell this awesome tale. He has won several awards, for this book, The Ransom drop, but also for his second novel Jungle Heist. His third book of the series was published in March 2023.