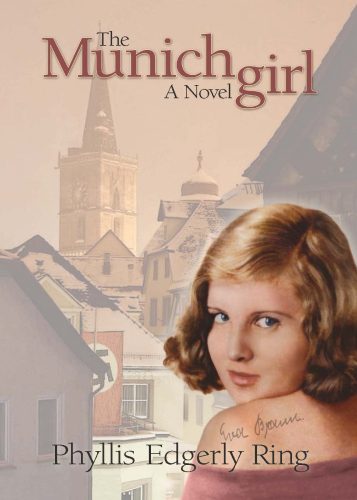 About The Munich Girl:
The past may not be done with us. Fifty years after WW2, Anna is plunged into the treacherous world of the Munich girl who was her mother's confidante – and Hitler's lover – and uncovers a tangled web of family secrets. "Historical fiction that reads like memoir". Philadelphia Inquirer.
Buy the book:

Author Bio:
Phyllis Edgerly Ring's novel, The Munich Girl: A Novel of the Legacies
That Outlast War, explores the enduring effects of a woman's secret
friendship with Hitler's mistress, Eva Braun. Phyllis is also the author
of the novel, Snow Fence Road, and of the nonfiction works, Life at
First Sight: Finding the Divine in the Details and With Thine Own Eyes:
Why Imitate the Past When We Can Investigate Reality? She studied plant
sciences and ecology, worked as a nurse, taught English to
kindergartners in China, coordinated programs at a Baha'i conference
center, and returns as often as she can to her childhood home of
Germany.