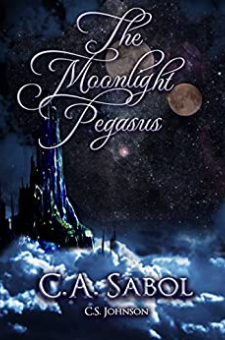 About The Moonlight Pegasus: A Standalone High Fantasy Novel:
Sapphira is a desert world with little plant life, where the people live in the shadows of gray sunlight, sickened by the Dark Plague. To cure the people, the Guardian of Dreams sends the Spirit of Truth to bring the light back into his darkened world. In the form of Pegasus, he enters the world through the pure, innocent dreams of Selene, the reluctant princess and heir-apparent to the throne. Now, with her brother Dorian as king, another rebellion is stirring. All eyes are turning to Selene to bring peace through an arranged marriage. However, Selene only has eyes for her true love—her protector, Etoileon. As the rebellion unleashes its fury upon the kingdom of Sapphira and the supernatural forces collide, Selene is caught in the middle of all conflicts—the battle for her world, the battle for her love, and the battle for her very soul.
Buy the book:
Author Bio:
C. S. Johnson is the award-winning, genre-hopping author of several novels, including young adult sci-fi and fantasy adventures such as the Starlight Chronicles series, the Once Upon a Princess saga, and the Divine Space Pirates trilogy. With a gift for sarcasm and an apologetic heart, she currently lives in Atlanta with her family. Find out more at http://www.csjohnson.me.