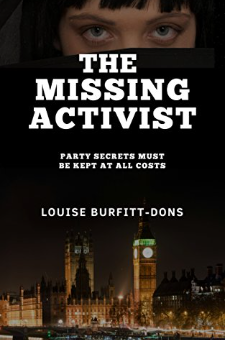 About The Missing Activist: A Gripping British Political Thriller ( Karen Andersen Thriller Series Book 1): Party Secrets Must Be Kept At All Costs (Karen Andersen Series):
He's missing. So why's no one looking?
Vivid, clever, and utterly compelling, THE MISSING ACTIVIST is the story of an outsider's attempt to uncover a deadly conspiracy at the heart of a UK political party.
Post-Referendum Britain and a country on high alert for terrorist attacks.
When a young political activist disappears in London, an off-the-wall private investigator, Karen Andersen, is put on the case.
She uncovers secrets of a party system that prizes loyalty above truth, a serial killer, and a female Jihadi plotting deadly revenge on the British Government.
But Party secrets must be kept at all costs.
A totally gripping contemporary thriller that will have you hooked from the very first page to the final, dramatic twist.
Buy the book:
Author Bio:
I've wanted to write thrillers ever since I met Ian Fleming as a child when he visited Kuwait, where I spent my childhood. So the adventures of James Bond were one of my early influences, along with those of the great spy writer John Le Carre and mystery novelist Agatha Christie.
My first book THE MISSING ACTIVIST, featuring private investigator Karen Andersen made the Amazon bestseller lists. So I decided to continue her adventures in a series. While she is often compared to Stieg Larsson's Lisbeth Salander, my inspiration comes from authors who write dynamic action as diverse as Lee Childs, Mick Herron, Charles Cumming, Adam Hamdy and Mark Dawson.
It's been said my books are "ripped from the headlines" thrillers, which is pretty apt as a way of describing them. I hope you are as gripped by conspiracies, political machinations, and social media manipulation as I am when I'm compiling them. Real life currently keeps me on the edge of my seat and the psychological games people play in their day to day lives.
I was a political candidate in the 2015 UK General Election of 2015 so THE MISSING ACTIVIST is also a masterclass in candidate manipulation, as is the major theme in THE KILLING OF THE CHERRYWOOD MP. If you found the House of Cards entertaining, you'll probably enjoy my observations on life.
My books also pop up in terrorism thrillers, a genre led by the likes of Terry Hayes, Frank Gardner and Simon McCleave. Having been born and brought up in the Middle East, I cover Muslim integration from both sides and spent a year brushing up on my very basic Arabic to get my facts right.
Brought up in the Middle East as well as the UK and then married to a New Zealand airline pilot, I've travelled the world a lot. I've lived full time in France and Australia, so I often visit these and other places I've travelled to in my writing. But my books are mostly set in and around London, a city I love and city in which we have settled.
I started out writing stage plays (under Louise Byres, which is probably why I favour multiple points of view. Now, when I'm not writing books, I'm hammering out a screenplay. Recent TV thrillers of mine, including Mother of All Secrets, Your Husband is Mine, The Ex Next Door, at Fame at a Deadly Cost have been on the US Lifetime network and other channels around the world, sometimes with different titles. To prove I still have a sense of humour and the soul of a romantic, I wrote a Christmas film. Called Christmas in the Highlands in Europe, it was released by Lifetime in December 2020 as Christmas at the Castle and its premier clocked up over a million views.
One of my life passions has been helping victims of bullying. I set up an anti-bullying charity twenty years ago called Act Against Bullying and when I'm not writing fiction I'm still at the helm, championing the cause. It's been a humbling experience to connect with as many people as I have, promoting the life-saving values of kindness and respect for others. It's allowed me special insight into what motivates a bully as well as the crippling emotional and pain caused by bullying. It's a theme which crops up quite a lot in my fiction.
What else? I have two grown daughters I adore and a new grandchild called Dempsie Lee.
The above is a bit about my world. Please keep in touch with me to share yours. I'm on Facebook and Twitter @LouiseBurfDons.
Oh, and if you're interested in my future books, if you click the Follow button Amazon will wing you a note when I've got a new book coming out. Or you can join my newsletter via my website www.louiseburfittdons.com