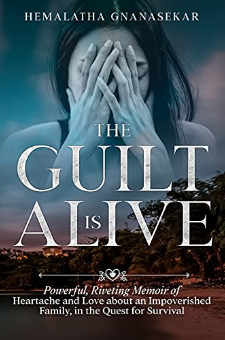 About THE GUILT IS ALIVE: Powerful, Riveting Memoir of Heartache and Love about an Impoverished Family, in the Quest for Survival:
Poor Man Always Dreams a Better Tomorrow…but Is the Life Worth the Cost?
The oldest daughter who failed to weigh the cost of pleasing her much-loved father…
The oldest son burdened with his father's expectations…
The story of ego, pride, anger, revenge, guilt…
With the powerful and raw memoir, The Guilt is Alive, author Hemalatha Gnanasekar gives an unconventional and unique examination of her life in an impoverished Indian family and explores her family's fateful decision to send the oldest son to Jamaica to work.
Strap yourself in for a gripping, suspenseful, and bittersweet account of a young man's journey to Jamaica in search of a means to contribute to the family's income – a riveting story of the struggle to escape the poverty where he found an untimely end.
"The author's emotional narration of the family dynamics that materialized while they struggled to make ends meet and the heartache of her brother's long separation from them was both touching and insightful" – Florence Osmund, the author of Regarding Anna and Nineteen Hundred Days
The series of unfortunate events that covered Hemalatha's life with a thick veil of guilt are poured into a heart-touching story that everyone should experience…
So what are you waiting for?
Scroll up, click on "Buy Now with 1-Click", and Get Your Copy Now!
Buy the book:
Author Bio:
Hemalatha Gnanasekar is an Indian-born writer raised in an impoverished family. Writing has been Hemalatha's passion ever since she was young, but the struggle to overcome poverty prevented her from dedicating herself to her passion – until now.
Through her work and her books, Hemalatha gives an unconventional perspective on women's life and struggle in today's world.
Some of her books detail her personal experiences and struggles that Hemalatha lived through, while others vividly capture the tribulations that many women go through every day.
Her exceptional emotional narration that touches the heart of every reader aims to inspire people to overcome the trials, get rid of their burdens, and better their lives.
Her published books include: "Life Lessons From India – A Woman's Memoir", "Joys and Woes of Marriage in India", "Surprises from India", "The Guilt Is Alive", "No Turning Back", "The Priceless Gift", and "The Heart of Gold".
Contact Information :
E-mail: hemalatha1965@yahoo.co.in
Website: www.hemalathagnanasekar.com