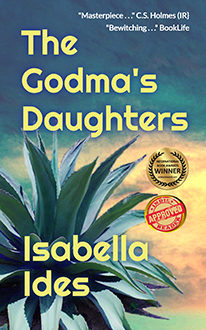 About The Godma's Daughters:
Maya Chronicles is a tale of the Mesoamerican rich, a love story that transcends time, a political thriller about a Maya civilization skidding off the map. It's about them. It's about us. It's about two medicine women, one in living in a dusty town on the US Mexican border, one living in the ancient Maya Yucatan, both raising granddaughters, both rebel shamans, both collaborators across the great divide of time.
"In a world that is always trying to die, one heroine is never enough."
Buy the book:
Author Bio:
A poet, turned playwright, turned novelist, Isabella Ides, believes that speculative fiction is the insurrectionist's purist artform. It blows up cranky, cliched, walled-in worlds in a blink of the eye. It builds alternate worlds with a soft hammer. So blinking and hammering, Isabella is all about building worlds in the wild and speculative hope that humanity find its worth in waking worlds to come.
A trip to Maya country sparked the writing of this novel. The lone visitor at a Cenote — one of a thousand of spring-fed pools that riddle the Yucatan — Isabella was enjoined by a mystery. The Cenote beckoned. She jumped in and the ghosts of that pool became her ghosts. And the setting of the climax of The Godma's Daughters, became the waters of a god-haunted pool, Yax Tok Ts'ono'ot.
If you love the TV series "Undone," or Sherri Tepper's "The Gate to Women's Country" or Octavia E. Butler's Earthseed series you will love "The Godma's Daughters," winner of the International Book Award for Visionary fiction. And then you might want to check out "White Monkey Chronicles," winner of the Gemma Prize for Speculative Fiction.