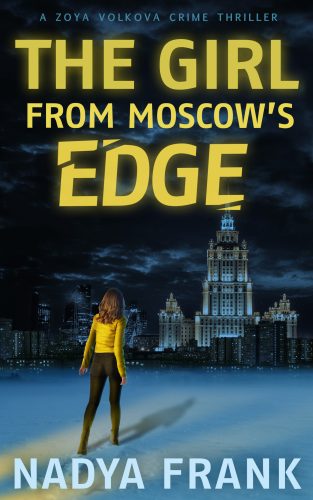 About The Girl from Moscow's Edge by Nadya Frank:
She finds him on the icy garage floor. The bare lamp under the ceiling illuminates his stillness, the pale color of his skin. He's splayed on his stomach, one leg bent, head turned to the side. His cheek rests in a puddle of his own blood…
Zoya Volkova's hopes for a better life are ruined when her friend Mikha is murdered in their workplace, a small garage in Moscow's sketchy outskirts. Mikha wasn't just Zoya's buddy and co-worker. He was an indispensable part of the heist they've planned, the job that was supposed to bring them millions and change their lives forever.
Was Mikha murdered by one of the rich Muscovites they scammed for a car repair in that very garage? Or was it a revenge from the local crime boss they planned to rip-off?
The only thing Zoya knows for sure: she can't sleep peacefully until she finds out who killed her friend.
It doesn't help that the only two people she trusts would benefit from Mikha's death. Her boyfriend Yegor finally gets the coveted leadership in the team. Her ex-girlfriend-now-bestie Mariam now has all the reasons to convince Zoya to step away from the dangerous heist plans. Caught up in a whirlwind of mistrust, Zoya finds a lead just before the news about her family shatters her world forever.
Grieving and devastated, she needs to make sure whoever killed Mikha won't come for her and the people she cares about. Racing against time, at odds with the police, a local mafia, and her own conscience, Zoya is determined to find her answers and punish Mikha's murderer.
A riveting, character-driven mystery for fans of Lisa Gardner and Karin Slaughter.
What readers say:
"Suspense and mystery…are enough to keep those pages turning…truly a gifted author" Amazon Reviewer ⭐⭐⭐⭐⭐
"Great characters, brilliant story line…full of twists and turns which keep you guessing…This should be on every person's must read list." Amazon Reviewer ⭐⭐⭐⭐⭐
"This unusual crime thriller delivers a gritty dose of Moscow's seedy underworld." Goodreads Reviewer ⭐⭐⭐⭐⭐
Buy the book:
Author Bio:
Nadya Frank is the pen name of Russian-American author Nadezhda Frank Bauman. Born and raised in the city of Ryazan, a four-hour drive from Moscow, she changed countries and occupations until settling in the United States. She now lives in Philadelphia, PA, with her husband and daughter, and writes full time, striving to create captivating stories that accurately reflect modern Russia.