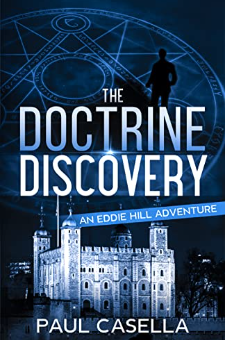 About The Doctrine Discovery: An Eddie Hill Mystery Crime Adventure:
A deadly race is on to solve humankind's greatest puzzle.
But who really wants to live forever?
If you enjoy Dan Brown's Robert Langdon adventures or Janet Evanovich's Stephanie Plum escapades, meet Eddie Hill.
Except he is not a world-renowned expert university professor. He is not a bounty hunter, super-soldier or craggy detective. He is a plumber from Portsmouth, England.
What would an ordinary guy do if he was suspected of murder and found himself on a historical treasure hunt that threw him in the path of an ancient society that would stop at nothing to answer the prayers of followers from across the world?
What would you do?
With the police on his trail and a murderer closing in, Eddie follows seventeenth-century clues to a mystery set by a courtier to the king of England. A mystery that puts his family and friends in jeopardy. A mystery that could expose one of the United Kingdom's most closely guarded secrets.
Buy the book:
Author Bio:
Paul Casella is a freelance writer, website editor, and author of the new novel The Doctrine Discovery. A pioneer of the football fanzine movement of the 1980s, Telerate (later, Reuters), invited Paul to write an internal daily magazine for the Italia '90 World Cup – the world's first-ever blog. He continued to write for most British football magazines, local and national newspapers and provided post-match summaries for London radio stations. His first football book reached The Times Best-Selling Sports Books list. In recent years, he has written and developed websites and blogs, including www.chipsandcrisps.com, for which he has taste-tested and reviewed over 1,500 different varieties from around the world.