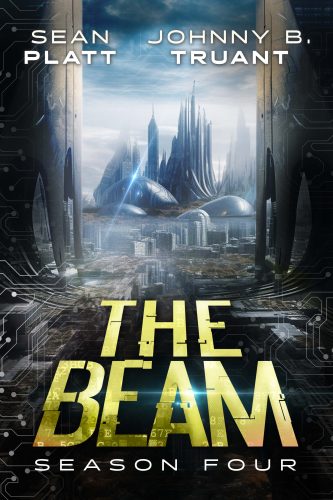 About The Beam: Season Four:
From the bestselling authors of the Invasion and Yesterday's Gone series comes the fourth season of The Beam: a disturbing exploration into the possible future of our hyperconnected world. This chilling, intricately plotted series is set in a futuristic dystopia where technological advancements have prompted questions about what it means to be sentient, to be alive, and to be human.
The devastating aftermath of Shift reveals a world teetering on the edge of chaos. A rash of deaths across the political spectrum and the near-total destruction of the Organas has left a power vacuum that must be filled.
But not even becoming a hologram could make Violet James forget who she is – or how important it is that she find Stephen York.
Legendary hacker Ryu and his team are searching for York too, poking through holes in the Beam.
Noah West, father of the Beam, is back and desperate to find Chloe Shaw – but he's being hunted too.
Alliances are forged and fates entwine as the hunt for Stephen York intensifies, Chloe Shaw rises, and another wave of deadly cleansing washes over the NAU.
Can the Beam be stabilized, or will it become a tool of the one person who shouldn't be allowed to control it?
Platt and Truant deliver deep political intrigue, incisive social commentary, and a generous helping of big philosophical themes through engaging, multifaceted characters and rich worldbuilding. If you enjoyed Altered Carbon and The Fifth Element, you'll feel right at home in the world of The Beam.
Buy the book:
Author Bio:
Sean Platt is an entrepreneur and founder of Sterling & Stone, where he makes stories with his partners, Johnny B. Truant, and David W. Wright, and a family of storytellers.
Sean is a highly-prolific author in both fiction and nonfiction, with more than 10 million words under his belt and more than a dozen published collaborations. He brings a rich sense of place, strong pacing, conflict-filled dialogue, powerful twists, and a flair for high-stakes drama to every story he contributes to. He's known for bringing out the best in whoever he collaborates with, thanks to his generosity, his adaptability, and his philosophy that "the best idea wins."
You'll see Sean's work as a co-author with Truant and Wright, and invisibly all throughout the studio.
Originally from Long Beach, California, Sean now lives in Austin, Texas with his wife and two children. He has more than his share of nose.