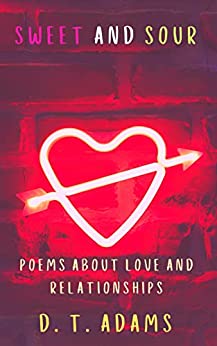 About Sweet and Sour by D. T. Adams:
Poems from the heart about love and relationships
A collection of romance poems that isn't always blissful and lovey-dovey. The pieces of poetry are arranged into three sections:
– Single. Poems about the hope for a significant other and being jealous of those who are already with someone
– Taken. Poems about being happy in a relationship and fear of a collapse coming
– Single Again. Poems about the delight of being free and feeling lonely
Love can be the best thing ever, but it's not always plain sailing. It can be thrilling, sensual and breathtaking, but also risky, devastating and brutal.
If you enjoy honest, often surprising writing about the nature of love, you'll like reading Sweet and Sour.
Buy the book:
Author Bio:
D. T. Adams is the pen name of an anonymous British writer. He's self-published ten e-books to date, including a novel, a collection of short horror stories, micro fiction, poetry and more. He's inspired by the world we live in today, as well as imaginary worlds of fantasy, horror and everything in between.