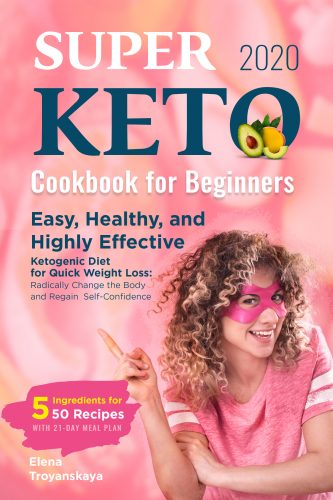 About Super Keto Cookbook for Beginners 2020: Easy, Healthy, and Highly Effective Ketogenic Diet for Quick Weight Loss: Radically Change the Body and Regain Self-Confidence (5 Ingredients for 50 Recipes) by Elena Troyanskaya:
Are you looking for an effective and easy dietary regime to shed pounds of weight? Is that stubborn belly fat giving you a tough time?
Or are you tired of trying radical dieting and extreme exercises that fail to work?
Well, here comes an efficient and proven solution to all your health problems-we know it as "The Ketogenic Diet".
This cookbook will bring you one step closer to this low-carb, high fat dietary approach and will create a strong foundation for you.
A health-oriented diet does not have to be too complicated to guarantee good results. It can be simple and easy, yet beneficial. The aim of this cookbook is to unearth the secrets of the ketogenic diet and how it works to achieve weight loss and good health, all the while laying out well-chalked out guidelines for all those keto-beginners out there.
Moreover, this cookbook contains Fifty 5-Ingredient low-carb recipes that will let you have all your favorite flavors and aromas on the menu. With these recipes, you can enjoy great taste without compromising your health. The book also comes with a 21-day meal plan, which will help you easily get started with your ketogenic lifestyle.
Important Highlights: Things that you will find in this Cookbook:
Introduction to the Ketogenic Diet
The Science Behind Ketosis
The Three Phases of the Ketogenic Diet
Benefits of Going Keto
Ways to Kick Start Ketosis
How to Minimize the Carb Intake
Low-carb Keto Substitutes
9 Simple Tips to Get It Going
50 Easy and Quick Ketogenic Recipes
21-Day Low-carb Meal Plan…
All the recipes are equipped with budget-friendly low-carb ingredients, easy to follow step-by-step instructions, and detailed nutritional information, so you can pick the right one every time.
It's about time that you take a leap towards a healthy future, try all the delicious ketogenic recipes from this cookbook and experience a whole new realm of flavors.
Buy the book: