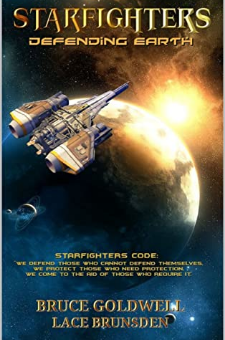 About STARFIGHTERS – DEFENDING EARTH: YA Space Fantasy (Book One of The Starfighters series):
The Earth is about to be attacked. The first battles are about to be fought, and the war for Earth's future is just about to begin. Whoever wins will determine the fate of humanity. When the fate of humankind depends on the bravery of teenagers, you need a team you can count on. The fate of the world is in their hands.
"Starfighters is a new teen sci-fi fantasy series. Destined to be the next big hit for sci-fi book fans. This fantasy book series is somewhere in between The Last Starfighter and Star Wars. Are you ready for a space adventure book that will have you sitting on the edge of your seat?"
When an alien force, known as the Thrall, is about to attack Earth, a group of teens from around the world are assembled to defend it.
No one can stand in the way of Billy Bronson and his dream of becoming the best starfighter pilot in the civilized world. He's laser-focused and determined to make it to the top. In a world where everyone is a potential competitor, this is not easy. But what makes Billy's quest even harder is that he lives–and goes to school–in one of the outlying planets where they still haven't been connected to beings from other worlds. That's about to change.
Billy Bronson is obsessed with Starfighter, the Virtual Reality game that makes you feel like you are piloting your Starfighter. As is every teenager in the civilized world. When he completes a time-sensitive mission in second place, he is surprised to see that he is invited to Nevada to compete to be ranked one of the best Starfighters in the entire world.
But, when Billy gets there, all is not what it seems, Billy realizes that the alien known simply as Harvey has taken it upon himself to train up his group of Starfighters on Earth, without the permission or the consent of the Galactic Federation. He cannot let innocent people die. The way he has managed to do this covertly is by implementing Starfighter training into the hit game Starfighters.
With the help of Harvey, a member of the Galactic Council, will a small group of rag-tag teens be able to stop the Thrall from destroying the earth?
Starfighters Defending Earth is a YA space fantasy with a teen romance for young adults and is Book One of The Starfighters Book Series.
This sci-fi fantasy series with a group of young teens from around the world obscures the lines between epic fantasy and sci-fi adventures. When two teens from opposite sides of the world experience a seemingly love at first sight encounter, this space adventure includes a friends-to-lovers romance for YA readers.
** The Starfighters book series is a collaboration between the authors, Bruce Goldwell and Lace Brunsden, based on a Movie Treatment written by Goldwell called Star Knights. The treatment was 1st registered with the Screen Writers Guild around the year 2000. The treatment was based on a story that Goldwell came up with while he was homeless. The Starfighters book series is a science fantasy space series with a group of teen heroes that features epic fantasy adventures in space, a dynamic space battle, sibylline space settings, innocent romance, and all set in a galactic realm at the center of the known Universe. **
Buy the book:
Author Bio:
Bruce's first book, Mastery of Abundant Living, is the work of the Law of Attraction. From the time Bruce first thought of writing the Mastery book to its being published was under four months. Not only does this book explain what the Law of Attraction is in easy terms for readers, but it also gives readers an easy step-by-step guide for daily use. The response from 100% of the book's readers has been overwhelmingly positive. This is one book that Bruce is sure will transform people's lives overnight. When one is ready to live their dreams and desires and manifest them at the speed of thought, this book will help one achieve it. People who think about small things get small things, and people who think about big things get big things. Since the Mastery of Abundant Living, Bruce has published five books of his six-book series titled Dragon Keepers, the first book in a new series titled Starfighters, and several children's books. His goal, help create a better world.
In memory of RUTH and FRANK THOMPSON