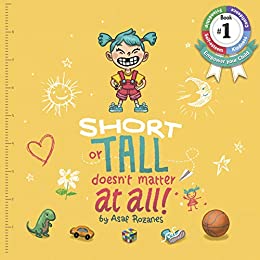 About Short Or Tall Doesn't Matter At All: (Children's books about Bullying/Friendship/Diversity/Kindness Picture Books, Kids Books, Kindergarten Books, Ages 3 8) (Mindful Mia Book 1):
Award Winning Book Series
Conveying topics like Diversity & Inclusion, Racism, Discrimination, Prejudice in a creative rhyming story which kids and adults can relate to and discuss.
"You're fat! You're a small baby! You sound weird!"
I bet i can find something about you that's different!
Don't let your child deal with this alone!
Whether it's your size, weight, color, voice, the way you walk or even how you giggle and snort. We're all somehow different, but kids can be mean and know how to trigger those pain points!
Although this book talks about a short girl which gets bullied by her classmates as an example ,this story and the tool she is taught may be applied to any other day to day scenario in life.
Through an inspiring tale about the sun and the moon and how everyone no matter how different they are has unique traits and skills, this real life story shows parents and kids alike what is really important in life – like having a good heart and turning bullying into new friendships.
Rated by parents, teachers, psychologists and kids(!) worldwide as one of the best indie children's book series to ever have been published!
Here are just a few of the practical tools this Award Winning book series provides:
+ boost confidence
+ increase self-esteem
+ create self motivation
+ creative thinking
+ growth mindset
+ acceptance
…and more !
The Mindful Mia book series is Ideal for children ages 3, 4, 5, 6, 7 and 8.
Short Or Tall Doesn't Matter At All is the first book in Mindful Mia- a series of books that reflect growth mindset, gentle parenting and nurture universal values that inspire and empower kids. This series is perfect for toddlers, preschool, kindergarten, first grade and second grade as they advance from early readers to intermediate readers.
Grab this empowering book series for you and the ones you care about and give them an advantage in life!
Readers and fans of books from authors like Jay Miletsky (Ricky the Rock that Couldn't Roll), Diane Alber (I'm NOT Just a Scribble), Laurie Wright (Mindful Mantras) and Steve Herman (Train Your Dragon), Jacquelyn Stagg (Starts With You), Michael Gordon (The Angry Dragon) and Sigal Adler (I Don't Want To Sleep) – will LOVE this series
A fun read, a tool for life, a hidden object game and a coloring book – All in one book!
Here's what readers are already saying about this amazing picture book:
(5*)- "I've read several indie children's books already and come across some really bad or mediocre illustrations. However, not this one! The illustrations in this are really beautiful, they capture what is being said perfectly. These illustrations give life to the story!" – Nikki
(5*)- "Asaf has a very clever way of writing these stories without the child realizing that there is a meaning behind them and is teaching them to be kind" – sallyann
(5*)- "I love the interactivity of the book and the image search game at the end. This would be a great book to have in a classroom or summer reading program" – Lindsey
(5*)- "For every parent to a kid who is a little bit different or actually any parent at all…Short or Tall is a must read book. My girl (3yo) loves it and the colourful illustrations, and she even enjoys explaining now why you shouldn't mock other kids" – AR
>>> Grab your copy now and read it with your kids tonight
Buy the book:
Author Bio:
Asaf Rozanes is a single dad, father of 5 y/o Mia, a life coach and children's author with a witty, humoristic and refreshing writing style. The combination of catchy rhymes spiced with humor, an ethical message and a practical life tool appeals to the hearts of children and parents alike.
As a life coach, Asaf aims to give children the tools required to lead a more happy, productive and successful life – enjoying the journey and embracing it.
Every book contains a message and a practical day-to-day tool which is suitable for children and adults alike.
As Asaf puts it:
"I want children to enjoy and embrace life.
I want them to keep talking to their inner child and keep that flame alive and kicking!
I want them to make mistakes, to be creative, true to themselves and to understand that is where they grow and succeed…I want them to remain free creative thinkers and doers!"
Join the fan list on the Mindful Mia website:
https://mindful-mia.com/subscribe