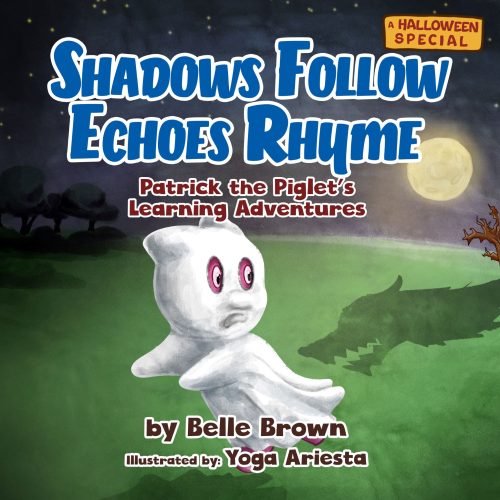 About Shadows Follow Echoes Rhyme by Belle Brown:
"When there is a source of light,
a shadow may appear.
When an object blocks the light,
there is no need to fear."
Come along for a spooky night of Halloween fun with this adorable rhyming story that will have your little ones learning about shadows and echoes with ease.
Shadows Follow Echoes Rhyme is the third entry in the delightful Patrick the Piglet's Learning Adventures picture book series. Written in simple rhyme, children will giggle with glee at this slightly spooky story starring Patrick the piglet and his friends from the farm dressed up in silly Halloween costumes—including ghost, witch, spider, mummies, and shadow wolf!
Perfect for preschoolers and children ages 4-8, this cute learning book makes a great trick-or-treat basket stuffer and Halloween gift for kids that you'll want to read again and again!
PLUS – A bonus shadow matching activity at the back of the book!
Buy the book:
Author Bio:
Belle Brown is a mother to an energetic and very inquisitive "purple princess" who loves all sorts of stories. Her little kid's insatiable appetite for learning inspired her to write her first book series, Patrick the Piglet's Learning Adventures.
Belle Brown wanted to bring the power of learning through storytelling with her writing. Her books develop children's cognitive abilities, help parents bond with their child, and nurture a lifelong love for reading.