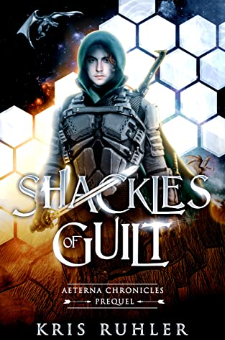 About Shackles of Guilt: A YA science fantasy prequel novel to the Aeterna Chronicles:
He's the boy next door. She's a princess. But when blood and war reach their doorstep, will they unite or be forever pushed apart?
Young and ambitious Earmon has climbed up the ladder in Levitor city to become the Queen's topmost advisor. He seems to have everything he's dreamt of but for one thing: princess Zenithia's love.
When he witnesses an intruder inside the city and decides to keep it quiet, he unwittingly unleashes a terrifying chain of events. His friend, Turak, has an episode that results in a fracture in Levitor's shield, and the horde of Reavers prowling outside the city advances.
In a world of intrigue, blood, and war, Earmon must battle for survival against savages and beasts.
His hardest trial is yet to come, and he will have to face a choice no one should ever have to make: protect the life of the one he loves the most at the risk of losing his own.
In the end, will he be enough to save her and the city?
Shackles of Guilt is a page-turning young adult sci-fi novel packed with suspense and a touch of romance and fantasy.
If you like Marissa Meyer, Veronica Rossi, Marie Rutkoski, Marie Lu, or Amie Kaufman, discover Kris Ruhler's science fantasy series and journey into new worlds today.
The Aeterna Chronicles is a complete 6-book series with two prequels.
Shackles of Guilt — Prequel 1: B09ZRT3J6Z
Severed Ties — Prequel 2: B0BGFP2RKC
Strands of Time — Book 1: B09WMBV3MF
Coils of Revenge — Book 2: B09XJWW3RF
Shattered Souls — Book 3: B0B349RQ45
Fractured Bonds — Book 4: B0BGFQ5LWZ
Scorched Threads — Book 5: B0BKK8R7FM
Raging Tides — Book 6: B0BMSF5XB6
Kallum's adventures (books 1 & 2) will return in the Ember Chronicles which takes place between the events described in Shattered Souls, book 3, and Raging Tides, book 6. The new series will be published in the summer of 2023.
Buy the book:
Author Bio:
Kris grew up reading classic novels to her mother. From these moments, she became fascinated with books and words. It was always the gritty worlds and the characters' growth that drew her in, and she often found herself engrossed in young adult science fiction, dystopian, and fantasy.
A lifelong daydreamer, she finally decided to put down her dreams onto paper. She tried to write straight science fiction and then straight fantasy, but both never clicked. So now she creates worlds just a tad bit different from ours – a blend of the futuristic with a touch of the fantastic. Like so, Strands of Time, her debut novel and the first book in the Aeterna Chronicles, was born.
Kris holds a degree in psychology and lives in rural Ontario, Canada, with her husband and children. She welcomes your thoughts on her book. Connect with her on her website krisruhler.com