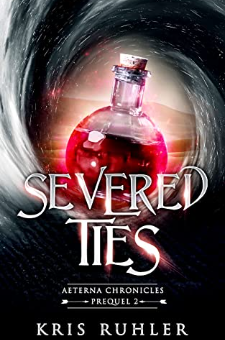 About Severed Ties: A YA science fantasy prequel novel to the Aeterna Chronicles:
A scientist filled with doubts. A four-year-old facing death. A momentous journey to save her.
For Belor, life in Cerulis City provides a myriad of comforts: endless food, a nice and warm home, and his dream job. He has life all planned out.
But when four-year-old Saya is about to be executed, Belor makes an irreversible decision that upheaves his entire life.
Soon, the pair find themselves on the run, fighting for survival. Saya is no ordinary four-year-old. She is a half-Aeterna, a race of beings banned from Cerulis City.
Will Belor be able to keep Saya alive?
A story about integrity, choices, and struggles, Severed Ties is the second prequel to the Aeterna Chronicles. Follow Belor as he meets the two protagonists, Khara and Essie, before books 3 to 6.
If you like Marissa Meyer, Veronica Rossi, Marie Rutkoski, Marie Lu, or Amie Kaufman, discover Kris Ruhler's science fantasy series and journey into new worlds today.
The Aeterna Chronicles is a complete 6-book series with two prequels.
Shackles of Guilt — Prequel 1: B09ZRT3J6Z
Severed Ties — Prequel 2: B0BGFP2RKC
Strands of Time — Book 1: B09WMBV3MF
Coils of Revenge — Book 2: B09XJWW3RF
Shattered Souls — Book 3: B0B349RQ45
Fractured Bonds — Book 4: B0BGFQ5LWZ
Scorched Threads — Book 5: B0BKK8R7FM
Raging Tides — Book 6: B0BMSF5XB6
Kallum's adventures (books 1 & 2) will return in the Ember Chronicles which takes place between the events described in Shattered Souls, book 3, and Raging Tides, book 6. The new series will be published in the summer of 2023.
Buy the book:
Author Bio:
Kris grew up reading classic novels to her mother. From these moments, she became fascinated with books and words. It was always the gritty worlds and the characters' growth that drew her in, and she often found herself engrossed in young adult science fiction, dystopian, and fantasy.
A lifelong daydreamer, she finally decided to put down her dreams onto paper. She tried to write straight science fiction and then straight fantasy, but both never clicked. So now she creates worlds just a tad bit different from ours – a blend of the futuristic with a touch of the fantastic. Like so, Strands of Time, her debut novel and the first book in the Aeterna Chronicles, was born.
Kris holds a degree in psychology and lives in rural Ontario, Canada, with her husband and children. She welcomes your thoughts on her book. Connect with her on her website krisruhler.com