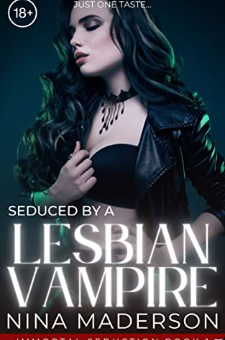 About Seduced by a Lesbian Vampire: A First Time FF Erotica (Immortal Seduction Book 1):
When not-so-innocent Jessica Harrington moves to Paris looking for sex and adventure, the last thing she expects is to be seduced by a lesbian vampire. Especially as she's straight!
But when she is rescued from mysterious thugs by a seductive stranger and taken to the woman's secret underground lair, Jessica finds herself in debt to a sexy lesbian vampiress.
Jessica is forced to submit to the supernatural woman's vampiric demands, but soon realises the vampire wants more than just her blood. She wants her young, fresh body as well. And Jessica is only too willing to let her take it.
WARNING: This eBook contains mature language and content intended for 18+ readers only!
This is a 7,000-word story that contains lesbian supernatural and paranormal erotica, vampire sex, oral, lesbian first time, lesbian bondage and submission, domination and strap-on fun that is not for the faint of heart!
Buy the book:
Author Bio:
Nothing turns Nina on more than straight girls discovering their sapphic desires and submitting to an older, more experienced lesbian who teaches them to feel pure pleasure for the first time! When there is an element of fantasy involved, the danger of getting caught, or a woman in uniform involved, that's when things get so much hotter!
Click Follow to be notified of new releases.
Lesbian | Submission | Safe BDSM | Tribbing | Age Gap | Paranormal