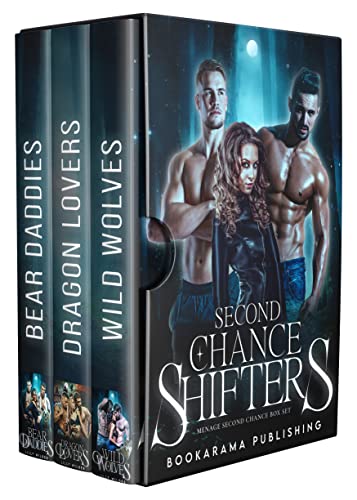 About Second Chance Shifters: Menage Second Chance Box Set:
I yearn for the Alpha shifters.
A second chance reunites me with the shifters from my past.
The handsome, tall hunks awaken naughty fantasies within me.
But their stubborn, arrogant nature reminds me why we didn't work out the first time around.
I should stay away from the Alphas.
But it's impossible.
Their strong muscles, their hungry eyes, their firm lips tempt me.
The intensity of my need scares me.
I should leave before I get tangled up with the shifters again.
But it's too late.
I'm in too deep.
I've never wanted anyone as badly to claim me…
Can my twisted dream of having them both come true?
The Second Chance Shifters Box Set:
Three fiery heroines. Six Alpha shifters who'll sweep you right off your feet.
Three standalone shifter romances. No cheating. No cliffhangers. HEA guaranteed!
Includes:
Bear Daddies
Dragon Lovers
Wild Wolves
Buy the book: