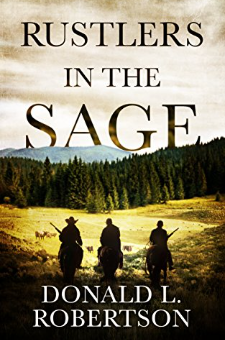 About Rustlers in the Sage: A Western Novella by Donald L Robertson:
Holt Kincannon has nothing left but his horse, his guns, and his pride. His years as a Texas rancher and lawman are behind him. His wife and son rest on a lonely hill overlooking the Llano River.
Now, he rides through the rugged mountains and sagebrush covered valleys of Northern New Mexico, searching. He's hoping for a new life, but will settle for a hot meal.
Buy the book:
Author Bio:
Donald L Robertson grew up reading Westerns with his aunt. They shared a love of Louis L'Amour. He wrote his first book after a career as an airline pilot and found out he loved it and surprise, it sold!
How many people are lucky enough to find two careers that they are passionate about.
If you like good, clean, action-packed Westerns, you will love his books. Get started with this adventure and find out for yourself.