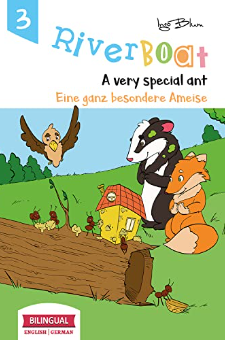 About Riverboat: A Very Special Ant – Eine ganz besondere Ameise: Bilingual Children's Picture Book English German (Riverboat Series Bilingual Books 3):
Teach Your Children First Words In English or German
This bilingual children's story revolves around three friends: Titus the badger, Finn the falcon, and Shylow the fox. They are a fun group of misfits who love sailing. One day they are dumbfounded when they stop their boat for a picnic – and their food appears to walk away on its own!
The problem is solved as they realize that the culprits are tiny ants, and after some royal interference by the queen of the ants a compromise is reached. However, Wendy, one of the ants, is unhappy with her ant-like existence and wants to be different. Everything seems boring to her. Then Finn has an idea. However, he does not know what the outcome will be.
Discover what happens when Wendy valiantly tries to assert her individuality.
This is a story of friendship, resilience, and trust, and it's told in a creative and imaginative way. Your kids will want to read it again and again!
Here's what makes this book special:
Each line is both in English and German
The story is simple and suitable for early-age learning
All the illustrations are original, creative, and super fun
A funny and exciting story perfect for reading aloud at home or in kindergarten or for reading together at school
Perfect first contact with a foreign language
Kids are like sponges, they learn quickly and easily. With bilingual children's books, you set them up for success and expand their horizons from an early age! If you and your children like courageous animals, light-hearted jokes, and imaginative adventures, then you'll both love this charming story!
Buy the book:
Author Bio:
Ingo Blum is an author, graphic designer, and comedian. He has always enjoyed projects where he could create artwork for kids. Eventually, he became a writer and graphic designer and started writing children's stories to accompany these projects for fun. With some encouragement from his friends and family (and a lot of kids!), he decided to share his stories with the world. Ingo works with illustrators from all over the world with whom he constantly develops new concepts and stories.
Please visit him at www.ingoblumbooks.com
www.facebook.com/ingoblumauthor/
Pinterest and Instagram: ingosplanet
Get some FREE books at bit.ly/5freebooks