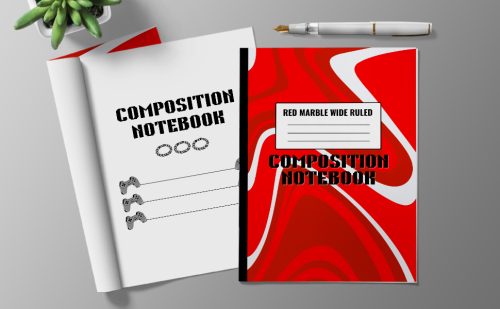 About Red Marble Composition Notebook Wide Ruled:
Are you looking for a marble notebook that should be a one stop solution to your writing related problems?
Look no further!
This writing book with a beautiful red cover is a must have for you, your kids, teens, and adults who want to take notes and use it for creative writing purposes.
This blank pages notebook is so adorable for writers of all ages and we have added beautiful sketch of video game & bead on the pages as well. This wide rule paper journal is perfect for jotting down ideas when you are at work.
Features:
✔Wide-ruled with enough spaces for handwriting practice.
✔100 blank lined pages good for record-keeping as well as any sort of requirement.
✔7.5 x 9.25 inches, a good enough size for usage from a teen to an adult.
✔Paperback – Soft cover design – Matte
✔Due-sided sheets mean large space to write.
Who should buy this notebook?
This colorful composition notebook is primarily for students but its pretty design is a good fit for a large audience to serve from home, school, office, travel and work. This is the best gift for any occasion, and you can also use it for:
★Homework
★Back to school supplies
★Subject notebook
★Spelling practice
★Taking notes
★Write down ideas & goals
★Write your To Do lists
★Journaling
You can also use it as a daily notepad, sketchbook, sketchpad, jotter, secret diary, gratitude journal, assignments, organizing, brainstorming, or class room study pad.
So what are you waiting for?
Scroll up and press the BUY NOW button today to get a copy for yourself or your loved one!
Buy the book: