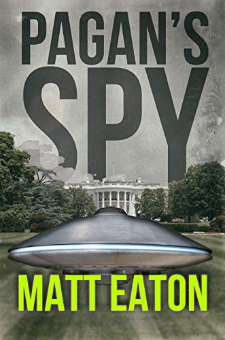 About Pagan's Spy: A noir sci-fi thriller (Verus Foundation Book 3):
Driven by honesty. Ordered to lie. Can one woman fight off international superpowers to awaken the Earth?
USA, 1953. Edna Drake is furious at how she's being treated. Forced to join a covert organization or face indefinite jailtime, the former journalist constantly battles to suppress her fierce sense of right and wrong. But when an extraction attempt to acquire world-shattering extraterrestrial evidence from the Vatican leads her straight into a Soviet trap, she fears she's paid with her life.
Masterfully outwitting her foes, Edna hopes to protect the truth by seeking asylum from President Eisenhower himself. But when McCarthyism brands her a traitor, the Commander-in-Chief abandons the frustrated reporter to the mercy of forces intent on ensuring her silence.
Can Edna unmask a massive conspiracy before it claims her head?
Pagan's Spy is the heart-pounding third tale in the Verus Foundation science fiction series. If you like vividly drawn characters, alternate histories, and jaw-dropping coverups, then you'll love Matt Eaton's thought-provoking story.
Buy Pagan's Spy to blow the lid off history today!
Buy the book:
Author Bio:
Driving a camper van too fast along a corrugated dirt track and afraid my life might be about to end in a cloud of blood and dust, I started to hear that voice.
The one that wakes me in the middle of the night and compels fingers to keyboards despite all rational arguments to the contrary.
Chasing the fading sound of that voice across a pitch-black desert is a journey of wonderful discovery punctuated with moments of bone-crushing trepidation when the trail vanishes without warning.
The trick is to pretend not to listen. Then the call grows louder.
Science loves the rational and cares not that fiction loves the fantastic. Making them meet is like forcing together two repelling magnets… the gap between them becomes more impossible the smaller it gets.
Sometimes, when they're almost touching, magic happens.