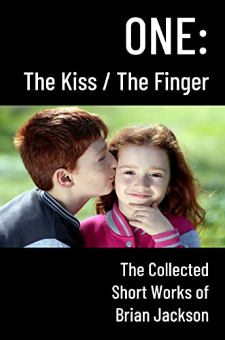 About One: The Kiss / The Finger (The Collected Short Works of Brian Jackson Book 1):
My name is Steve Merriman and I'm eleven years old. I go to Darby Avenue Elementary School where I'm in the sixth grade. Today, March 11th, 1969, after school, I have to kiss a girl.
So begins the opening story in this short, two-part collection, "The Kiss", which tells of Steve Merriman's predicament that comes about due to a dodge ball accident in which he hits Maureen Keller in the face with a scorcher. To keep Maureen from "telling", Steve agrees to kiss her behind the bungalows after school. "The Kiss" is a classic story of burgeoning young love set amid days gone by when everything seemed to be simpler and youth was awash in a sea of innocence.
"The Kiss" was previously published in the Columbia College Spring Review, and in the book "A Curious Affair", published in mass market paperback by New York publisher Dorchester Press.
"The Kiss" is followed by the only other story in this collection, "The Finger", in which the narrator of the story wakes to find a severed finger lying on the coffee table of a shared apartment. But that's only the start of a really bad day in which chaos ensues.
These two stories were written soon after I retired, while attending a creative writing class at my junior college.
I hope that you enjoy reading these stories as much as I enjoyed writing them. Keep your eye out for other installments in The Collected Short Works of Brian Jackson.
Buy the book:
Author Bio:
Born in Los Angeles in the middle of the last century, I have always wanted to be a writer. After twenty-five some odd years spent working in the computer industry in the heart of the Silicon Valley, first for Lockheed as a Systems Programmer and later for Cisco Systems as a test tool developer, I managed to retire early and begin my next career as a self-published author.
Along with writing and publishing my own novels, I also publish the works of my wife, Melanie Jackson. During the past four years, I've published well over 100 books in paperback and ebook formats. Oddly enough, this includes ebooks on how to self-publish books and how to create professional looking book covers using the GIMP. I've also recorded and distributed a pair of audiobooks available for purchase on Amazon and Audible. Finally, I spend a portion of my time maintaining both my website and my wife's website, which were developed using WordPress.
My latest endeavor, begun in July of 2014, is to record training courses for distribution via Udemy. My goal is to provide low cost high-quality screen cast based educational material focusing on my area of expertise; namely, self-publishing and book cover design using the GIMP. As time permits, I plan to expand my catalog to cover Web page development and Udemy course preparation.
I currently live in Las Vegas, Nevada, with my lovely wife, published author Melanie Jackson, and Butterscotch, the cat.