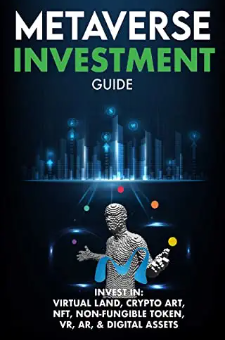 About Metaverse Investment Guide, Invest in Virtual Land, Crypto Art, NFT (Non Fungible Token), VR, AR & Digital Assets: Blockchain Gaming The Future of The … World (Metaverse Investing Books Book 2):
Are you looking to invest in the Metaverse?
Then keep reading…
Back in 2000, many people thought the internet was a "fad" and yet in 2021 at the peak of the pandemic the British public demanded access to the internet as a "human right". Imagine how much the Metaverse will change in years to come….
Morgan Stanley forecasts the VR/AR market will be worth $100 billion by 2030 and grow fivefold in the decade after that- David Rosenberg (Financial Post, 26 Nov 2021)
This book will teach you everything about making money through investments in the new digital economy and more!
Investing in virtual land, crypto art, NFT (Non-Fungible Token), VR, Web3 & Digital Assets can be a confusing process. However, the Metaverse Investing Business book is the first Deep dive into Metaverse investing. This book teaches you everything you need to know now and for the future.
You will learn how to make money by investing in Metaverse Businesses because these types of digital assets are going to be worth a lot more than what they are today.
The Metaverse Investing Business book is the best place for investing in the future digital world. This book covers a wide range of digital products that can help you make money and grow your portfolio.
You'll learn everything about this new economy including what it is, why it matters, where it came from and where it's going next.
Contents Page:
INTRODUCTION: FUNDAMENTALS OF THE METAVERSE
CHAPTER 1: MEGATRENDS SHAPING THE METAVERSE
CHAPTER 2: MAIN METAVERSE PROJECTS
CHAPTER 3: BUSINESS MODELS IN THE METAVERSE
CHAPTER 4: TOP WAYS TO INNOVATE IN THE METAVERSE
CHAPTER 5: VIRTUAL AVATARS
CHAPTER 6: PAYMENT IN THE METAVERSE
CHAPTER 7: BUILDING METAVERSE EXPERIENCE
CHAPTER 8: GAME ENGINES
CONCLUSION
There are many opportunities out there but only one place that teaches you all about them – Metaverse Investing Business Book!
Invest in your future digital world today with Metaverse Investing Business Book!
Click Add To Cart to purchase your copy of Metaverse Investing Business Book today!
Buy the book:
Author Bio:
The Meta-Verse were the first to publish a series of Metaverse Investing Guides, which quickly reached a wide international audience and multiple best seller status'.
The Meta-Verse is an international network of academics, writers, investors, traders and economists dedicated to independent, unbiased Metaverse financial research. Through our extensive experience, we uncover the best opportunities for individual investors of all experience levels to protect and multiply their income, wealth and investments.
Now with a delicious appetite for more Metaverse related content, we continue to serve our readers with the most accurate, cutting edge, and update knowledge in the Metaverse investing landscape.