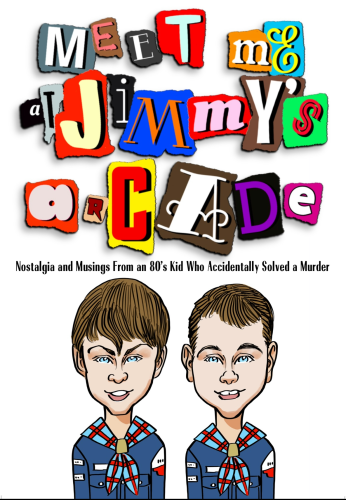 About Meet Me at Jimmy's Arcade:
"Nostalgic Humor and Murder Mystery collide in this hilarious and heartbreaking coming-of-age tale about two best friends navigating life in the late 80s."
Bakersfield, California, 1990.
Local high school student Bebe-Lynn Sanders is missing. Each day that passes causes more and more worry for the entire town. She was seen cutting through Quailwood Park on her way to rent a movie the morning she vanished. Her last appearance was later that night outside the popular hangout, Jimmy's Arcade. No one knows where she went. No one knows what happened.
Join mildly-idiotic kids Grant Fieldgrove and Roxy Roxburgh as they stumble, scheme, and steamroll their way through Bakersfield in the late 80s and early 90s, desperately on the hunt for a Nintendo, fake earrings from Miller's Outpost, tickets to see Vanilla Ice at the Civic Auditorium, and the ever-elusive holy grail – a porno mag! And, of course, Bebe-Lynn.
Meet Me at Jimmy's Arcade is a hilarious and heartbreaking romp through a small California town way back when, filled with nostalgic stories, humor, mystery, arcades, and malls. You won't want to miss it! So sit back, grab a Jolt Cola and a three-foot-long licorice rope, and enjoy the ride.
Bebe Forever & Long Live the Arcade!
Buy the book:
Author Bio:
Grant Fieldgrove was born in Bakersfield, CA at the tail end of the rockin' 1970's! After successfully avoiding work and responsibility for over twenty years, he finally landed a job soul-crushing enough to, after several years of procrastination, finally make him settle down and follow his dream of being an awesome writer of only life-changing, high brow literature…when that didn't work, he took to comedy.
He still lives in Bakersfield with his wife Julie and his son McClane, who is non-verbal autistic.
His latest novel, Meet Me at Jimmy's Arcade, arrives in early 2023 and features several stories from his life growing up in the 80's.
He loves pizza and terrible VHS horror flicks, and has several movies in various stages of production, including the dramedy Good Side of Bad, the slasher horror Time's Up, and the award winning short Kate Calloway's Second Annual Haunted Halloween Sleepover.