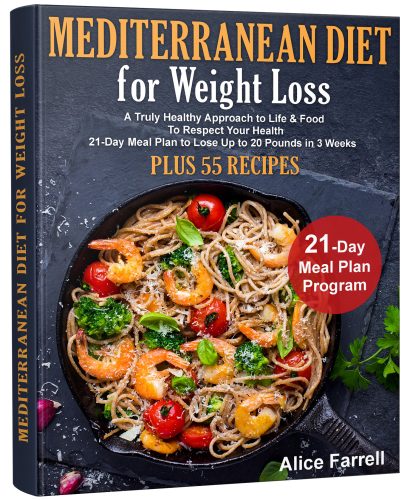 About Mediterranean Diet for Weight Loss: A Truly Healthy Approach To Life & Food For Respect Health. 21-Day Meal Plan Plus 55 Recipes.:
Discover how easy it is to lose weight with the Mediterranean diet while improving your health and mood.
Are you interested in losing weight without moral stress and at the same time eating tasty and satisfying food?
Imagine a situation where you are on a diet but you don't feel hungry and you don't feel like you're on a diet at all.
Do you want to surprise your friends and acquaintances with your new Mediterranean dishes with great taste?
Great, here's your guide to great health, balanced weight and great mood!
Mediterranean Diet for Weight Loss. A Truly Healthy Approach To Life & Food For Respect Your Health.
The perfect way for you to choose a new Healthy Lifestyle!
In this book, you will discover:
Basics of the Mediterranean Diet. Learn more about what the Mediterranean diet is, the underlying principles to follow, and how it provides healthy guidance for sustainable weight loss and establishing healthy eating habits.
Quick and Easy Recipes. You will find an infinite variety of quick and easy recipes divided into categories and embellished with helpful information such as nutritional values, preparation times, and cooking, designed to delight the palate and promote well-being.
A 21-Day Diet Plan. An easy-to-follow 21-day Mediterranean meal plan to get you started, with comprehensive shopping and food lists, and tips for creating your own menus.
Buy the book:
Author Bio:
Alice Farrell – an amazing woman who has done a lot for the development of modern nutrition. An excellent housewife with experience in small family-type restaurants. During her life, Alice managed to study the culinary recipes of different countries of the world. This allowed her to master the amazing art of cooking deliciously from what is at hand. Many fans of her talent are happy to recommend her recipes and a special approach to nutrition.