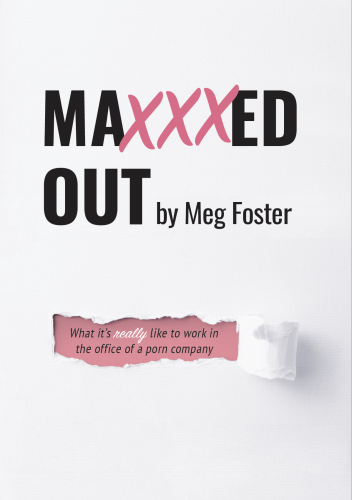 About Maxxxed Out:
THE STORY OF PORN THAT'S NEVER BEEN TOLD: Maxxxed Out is based on the true story of Meg Foster's experience working in the office of a modern-day porn company.
Spanning six years, this collection of outrageous and unexpected stories weaves together a young woman's rise to extreme heights within the adult film business and her struggles along the way. Chock-full of industry insider tips and secrets, this story also reveals what it is really like to work behind the scenes at one of the world's largest adult film companies.
Still feeling the shockwaves a few years after the 2008 economic crisis, 24-year-old Meg Foster finds herself with a growing stack of bills and ever-dwindling job prospects. Determined to pursue her creative passions, Meg lands herself a writing gig at an adult film company. But with the hilarious happenings in the office, and a budding romance with her cameraman co-worker Danny, Meg soon realizes she may have bitten off more than she can chew.
What was supposed to be a temporary job to pay the bills has turned into a full-blown career. And before she knows it, she is standing side by side with Maximus Kline, the company's dangerously unpredictable owner. As Meg reaches amazing heights in the adult film business, she experiences low lows in her personal life. Maximus has big plans for KlimaXXX Industries, but they don't quite align with Meg's visions for her future. She struggles to justify her job while confronting painful memories of her past. And she must decide: leave her job and risk financial ruin, or dive deeper into the porn industry than she ever thought she'd go.
Buy the book:
Author Bio:
Meg Foster has worked with the world's largest adult entertainment companies and has a wealth of knowledge and experience in the industry. She has since moved on from the adult world but still has many stories to tell.
Maxxxed Out, her debut novel, is the culmination of her personal and professional experiences all tied together in one unique story of porn that has NEVER been told before! As a woman who has only ever worked behind the scenes, Meg's story is not just rare, but almost unheard of.