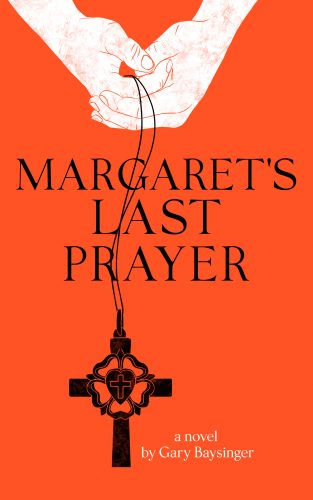 About Margaret's Last Prayer:
When fourteen-year-old Margaret Laemmer awakens in the morning, she has no idea a meeting on the river will lead to her to risk her life. In an act of raw courage, she saves two gypsy boys from drowning. The boys' mother rewards her with an identical pair of amulets, telling her they will bring good fortune to whomever she gives them.
In the dying days of the Second World War, two enemy soldiers, come face to face in Germany on the banks of the Elbe River. Each soldier wears an amulet identical to the other. One is determined to kill the other.
Buy the book:
Author Bio:
Gary always loved a good story. He spent his formative years growing up on the site of a World War Two battlefield, where he shook hands with a King and a President. Inspired by comic books and classic Hollywood cinema, he married his interest in historical fiction with Ancestry.com to re-imagine the family tree as an outline for a story. He is a direct descendant of Margaret Laemmer from his novel, "Margaret's Last Prayer". He is a graduate of the University of Baltimore and a veteran of the U.S. Coast Guard. Gary began writing in 2016, and lives in Milwaukie, Oregon with his wife, two children, and two dogs. If you like a little twang in your morning coffee, you can hear him spinning Johnny Cash and Patsy Cline records on KBOO.fm Swing & Country program every 5th Saturday from 6:00 – 9:00 am PST.