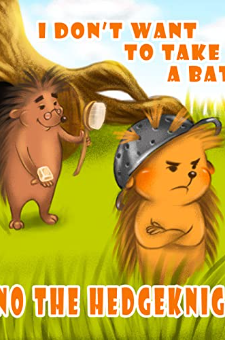 About LITTLE HEDGEHOG KNIGHT – I don't want to take a bath!: A story about hedgehog, for children who like to say no.:
Hello, everyone! Honestly, I don't know how to describe this book, except as a MIRACLE! You just have to read it!
This is a simple but entertaining story about a little hedgehog who wants to be a knight. He is brave, honest, kind, but a little stubborn. He believes that real knights NEVER take a bath. With his caterpillar friend, he boldly sets off to meet adventures. They go through a difficult, fun, and messy day. Now our little hero has to make a choice: take a warm bath or stick to his oath? Let's see how this story ends!
I would like to say a special thank you to the illustrator. Her talent and soul made this book incredibly beautiful!
Buy the book:
Author Bio:
Hello everyone! I'm happy, I'm really glad you're here, maybe by accident, but still got to the page with my book. I'm an author, just an author. And I love writing and publishing children's books. I hope you enjoy reading them, оtherwise, I should be doing something else… Maybe walking dogs or growing cabbage. You can offer your options)) I don't always succeed, but your comments, which may be very strict, make me better. Thank you for your attention to my humble self and see you on the pages of my books!