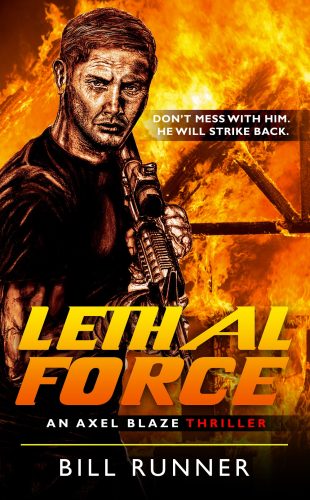 About Lethal Force By Bill Runner:
Release Day – May 21, 2022!!
FREE on Kindle Unlimited!!
"I've dealt with lots of dangerous men, men like you, who kill people over nothing. But sometimes, they mess with the wrong guy."
Ex-deputy US Marshal Axel Blaze knows how to deal with dangerous men. A background in the special forces and the US Marshals has made him a tactical fighter and lethal opponent. Following the successful debut of Blaze Returns, Bill Runner is back with the second novel in the Axel Blaze thriller series.
When Blaze takes out a Mexican cartel's operations in Nevada, the cartel sends hitmen after him and everyone he cares about. Bad move. What the cartel doesn't realize is, it has messed with a Lethal Force.
Blaze will go after them. Put the fear of death in them. Before striking back. Hard.
Buy the book:
Author Bio:
Bill Runner worked as an investigative reporter before turning to writing. He has created the Axel Blaze series of books. The next books in the series will be released in 2022. Bill has been a lifelong student of martial arts and has trained in Karate and Krav Maga. Working the crime beat and studying the art of fighting helped make him the author of nail-biting thrillers. Bill's writing won him an award for debut authors at the London Book Fair.