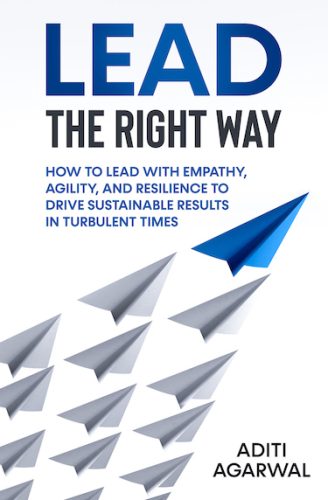 About Lead The Right Way: How to Lead With Empathy, Agility, and Resilience to Drive Sustainable Results in Turbulent Times:
Lead the Right Way is designed to help you invest in yourself and become the next-generation leader your organization needs. This book introduces a simple leadership framework to overcome great resignation and drive sustainable results during and post-pandemic. This book provides valuable guidance to leaders and organizations about behaviors and actions they can adopt during any crisis.
Buy the book:
Author Bio:
diti Agarwal is an experienced leader who leverages an outcome-driven approach to help teams innovate, embrace change, continuously improve, and deliver valuable experiences. With 22+ years of unparalleled excellence in planning and executing strategic large-scale initiatives, she is best known as an empathic, agile, and resilient leader who is passionate about coaching others. She lives in Phoenix, Arizona with her loving family. Her mission is to share her knowledge and accelerate learning for others.