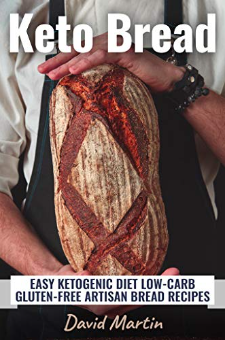 About Keto Bread: Easy Ketogenic Diet Low-Carb Gluten Free Artisan Bread Recipes (Bread Baking) by David Martin:
Craving for bread while on Keto diet? Enjoy keto-friendly savory and sweet bread with easy-to-make ketogenic baking recipes!Download FREE with Kindle Unlimited! The ketogenic diet is an effective way to lose weight. Tried and tested by many people who are ready to take their healthy lifestyle to the next level. But sometimes, you just miss the satisfaction of eating a sandwich or have some bread with your meal. In this cookbook, learn to make keto-friendly, low-carb savory, and sweet bread that will satisfy your craving without letting go of your dieting objectives.Who knew the keto diet can be so easy to follow with some simple recipe modification? Bake and eat your favorite bread while still burning fats instead of carbs by following the directions of this cookbook! Keto Bread ensures that you stay on top of your keto diet while allowing yourself to eat savory and sweet keto-friendly bread. Inside this book, you will find everything you need to know to bake keto-friendly bread including the perfect ingredients to use for baking keto-friendly bread and over 50 recipes such as:Classic Keto Bread Recipes Classic Bread Easy Sandwich Bread Easy Paleo Keto Bread French Baguette Flat Bread and Tortilla Recipes Herbed Tortillas Easy Flatbread Soft Flatbreads Cheesy Tortilla Chips Keto Bread Rolls, Buns and Bagels Fluffy Keto Buns Keto Biscuits Cheesy Pretzels KETO PIZZA CRUSTS Bacon and Cheese Pizza Four-Ingredient Pizza Dough KETO SWEET BREAD Lemony Blueberry Bread Chocolate Zucchini Sweet Bread Coffee Infused Bread Sesame Sweet Bread Sweet Peanut Butter Bread Berries and Lemon Bread Each recipe comes with the number of servings, a detailed list of ingredients, easy to follow step-by-step directions, and nutrition facts per servingRead on your favorite devices such as Kindle, iPhone, iPad, Android cellular phone, tablet, laptop, or computer with Amazon's free reading Kindle App.Let's start baking! Scroll back up and click the BUY NOW button at the top right side of this page for an immediate download!
Buy the book:

Author Bio:
David Martin qualifies himself as a BBQ addict! For as long as he can remember, David has always been fascinated with the preparation of meals cooked on the grill and smoker. It has been a prominent feature in all of his childhood memories. Growing up in South Carolina, the barbecue was the central activity of the weekend. It was where everyone would gather, share amazing food, laughter, and talk. These early encounters with the barbecue formed important traditions in David's family that he continues to this day. He now owns his BBQ restaurant where he has been creating and tweaking his recipes for the last for 20 years. In the past couple of years, he has been sharing his knowledge in his books and has a particular interest in how it's done in elsewhere where barbecue is king like Missouri, Tennessee, Texas, and more to come.